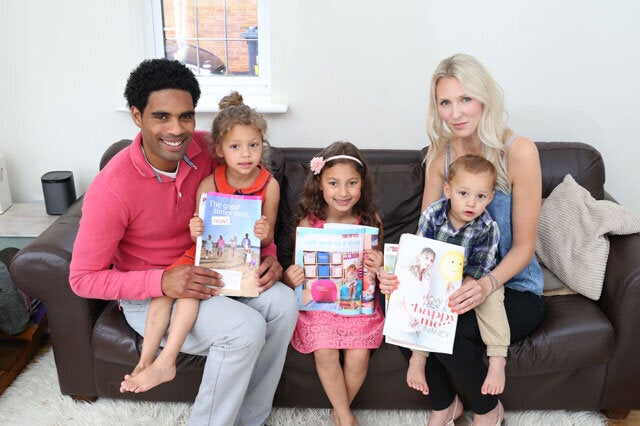 Pulling off a perfect family photo can often seem impossible - one of the kids has their eyes closed, dad's pulling a weird face, mum looks a bit funny in that dress - but it's all in a day's work for the Rowleys.
The genetically-blessed bunch have all modelled professionally, and are touted as one of Britain's most photogenic families.
You've probably seen mum Kimberley, 31, dad Anthony, 33, and kids Tilly, five, Maisie, three, and 18-month-old Henry in adverts on your local high street, but you'd be forgiven for assuming the picture-perfect crew were handpicked actors rather than real-life relies.
Their journey into professional modelling began with mum Kimberley, who was working as a model when she met husband Anthony. When she fell pregnant with the couple's first child, she started booking gigs with a baby bump - and one thing led to another.
Anthony, who plays football for Luton Town as Anthony Charles, now joins her and their three children between matches to pose as a family in photo shoots for big name brands.
i
The Rowleys have netted thousands of pounds by appearing in high-profile campaigns for high street giants such as Mothercare, Argos, Umbro and Centre Parcs.
i
Kimberley explains that the family treat the modelling gigs as fun and as an investment. "Every shoot is like a family outing - it's great to spend time with the kids while saving money for their future, "she told the Express.
The youngest member of the clan, 18-month-old Henry, made his modelling debut aged just 10 days old, in a shoot for Mothercare. But big sister Tilly can beat that - she appeared in Pregnancy and Birth magazine before she was even born, when her mum posed for shots with her baby bump.
Kimberley reckons that part of their appeal is down to the fact that advertisers are keen to show mixed-race families."I think we get booked a lot because we are a real mixed race family," she says. But that wasn't always the way, according to Kimberley, who has been modelling since she was 13.
"It's nice that more mixed families are used now as when I first started modelling it was always a white male with white female and vice versa," she recalls.
Using a real family rather than a group of individually-cast models also avoids the risk of awkward-looking 'stock photo' poses, because the family bond is genuine. "Companies tell us they like to use our real family as the children interact better with us as parents," Kimberley says.