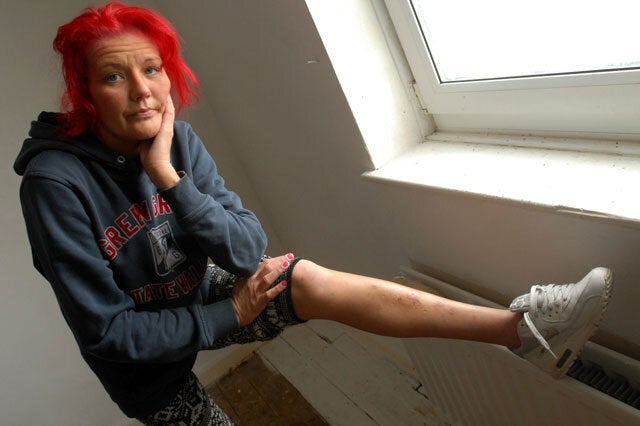 A mum whose body is covered in infected bites says her two children have been driven out of their home by an invasion of insects.
Diabetic Joanne Bailey, 32, is covered in painful sores caused by carpet beetles, which have infested her house in South Shields, near Newcastle.
"I just can't take it any more," said Joanne. "My legs are covered in bite marks. It's awful, the house is crawling. I am a diabetic and I can't be having infected bites like this, it's not safe.
"The kids are terrified of all the bugs, and who can blame them. This house is not fit for living in. I just don't know what to do – nothing seems to work."
Joanne has been prescribed antibiotics and has been given a doctor's note to verify the severity of her problem to her local council. The note states:
"I have seen Joanne Bailey today with infected bites requiring antibiotics. Due to her diabetes, infections can be life-threatening. Please address the pest problem urgently."
Joanne's children, Leonie, 12, and Alfie, six, are too scared to stay in their home and have moved in with their dad.
"The whole house is affected, there doesn't seem to be any rooms that are bug free," Joanne told The Shields Gazette. "But I'd say the bedrooms are definitely the worst."
Joanne and her family only moved into the house last autumn and they soon noticed the bugs crawling over the floors and walls.
They contacted the council's environmental health team, which have since fumigated the home three times, but have not managed to put an end to the infestation.
Council officers returned to Joanne's house yesterday and a South Tyneside Council spokesperson told Parentdish:
"Representatives from our environmental health team have revisited Ms Bailey's property to administer the next part of the treatment.
"We will continue to deal with the issue until the problem has been totally eradicated. The team is addressing the insect situation at the source; and with any infestation procedure we have to wait until the mites react to the specialist treatment.
"But we can reassure the tenant that we will return to their home until the issue is resolved."