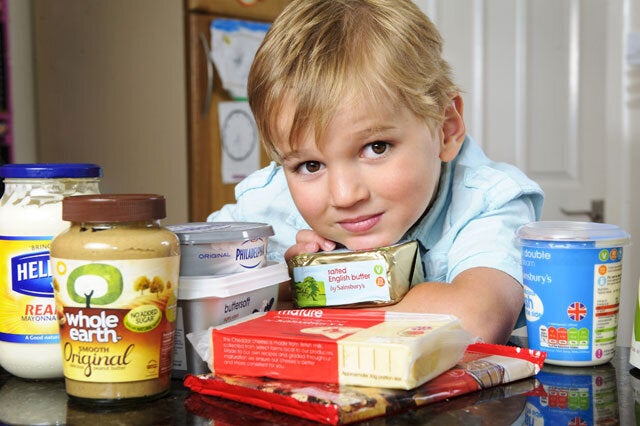 A six-year-old boy who had 300 epileptic seizures a day has been cured – thanks to a diet rich in butters and cheese.
Charlie Smith feasts on high calorific foods such as cheese, cream and Philadelphia. He also has his favourite - full-fat butter - with every meal.
Before the breakthrough, Charlie, from Epsom, Surrey, had to take a cocktail of drugs to try to control the fits but they had little effect and he lost consciousness several times a day.
In desperation, Charlie's parents, Debbie, 47, and Wayne, 48, saw a neurologist who suggested a high fat, low-carb 'ketogenic' diet. And as if my miracle, Charlie's seizures stopped.
Debbie said: "The diet has changed our lives for the better. As soon as Charlie switched to it, it was as if a cloud had been lifted.
"We were at our wits' end and were just praying for a miracle."
The ketogenic diet forces the body to burn fats, instead of glucose from carbohydrates, putting it into a state of ketosis, which appears to reduce seizures.
A typical day could involve an omelette for breakfast, pancakes with sugar-free syrup for lunch and a bacon quiche with butter and cheese for dinner.
Dad Wayne said: "Charlie has his life back, and has not had an attack since he started the diet two years ago. It's a miracle, we couldn't be happier."