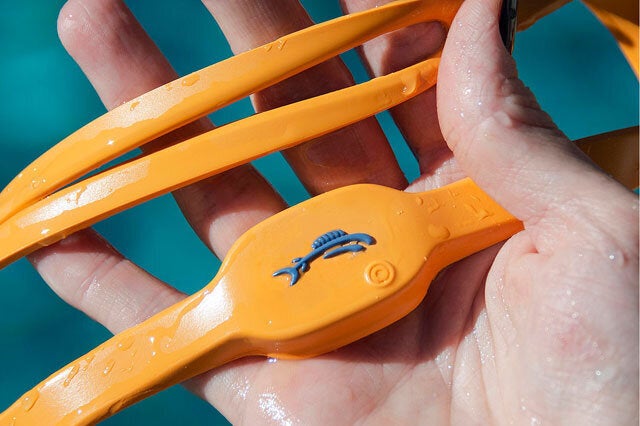 Could this rubber headband keep children safe in the water this summer?
As the heatwave continues and kids want to cool off, the threat of drowning is a serious worry for mums and dads.
But the company behind the iSwimband says the device can put parents' minds at rest.
It contains a sensor that syncs with a parent's Smartphone to alert them if their child accidentally falls into water or stays too long under the surface.
Costing around £60, the band sends a warning via Bluetooth and lets the adult come to the aid of their child as quickly as possible.
There is also a wristband available, which is designed for children who are non-swimmers and fall into a pool by mistake.
When the device detects the child has fallen into water, it sends an alert immediately to the parent so they can come and rescue them.
The headband version is designed for slightly older children who are able to swim.
It detects when a child has been underwater for too long, perhaps because they are struggling to swim to the surface.
In this instance an alarm will again sound on the phone, alerting the parent to come and save their child.
Up to eight iSwimbands can be synced to any one iOS device.
Speakers can also be linked to provide louder alerts.
The company says it's important the parent knows the general location their child is in, as the device does not have GPS, although this is something they to add in future.
The company website states: "iSwimband is the world's first wearable sensor designed to alert you with an audible/visual alarm on your smartphone or tablet (and linked speakers) if a swimmer has been submerged dangerously long, or if your non-swimmer enters the water.
"While nothing can replace diligent human supervision, iSwimband provides you and your loved ones with an added layer of protection around water."
Article continues after video
• iSwimband is a small, wireless sensor that is worn either as a headband or a wristband.
• The sensor is paired with a compatible Bluetooth-enabled smart device running the free iSwimband app.
• When both the sensor and app are activated, the app continually monitors the status of the sensor.
• If the app determines that the sensor has been submerged into water, or submerged for a (user-definable) dangerous period of time, it notifies the caregiver via audiovisual alerts.
• The caregiver can then investigate the circumstances and intervene if necessary.
• The device apparently has a battery life of hundreds of hours of active monitoring.
• It has an effective range of 100 feet (30 metres) or more.