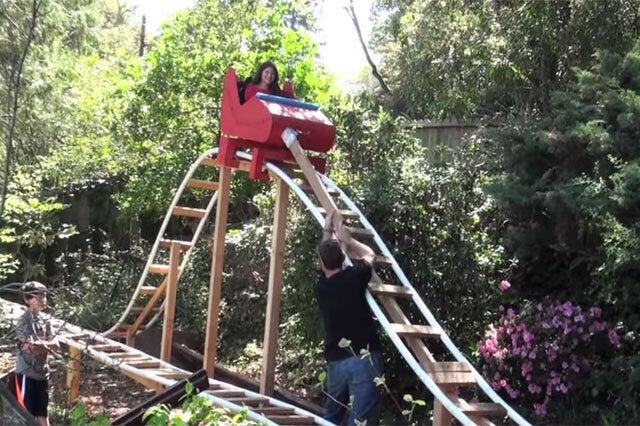 An inventive dad came up with an incredible way to share his passion for science with his kids - building them their own rollercoaster in the back garden.
California dad Will Pemble, who works in online commerce by day, came up with the idea after visiting a theme park with his 10-year-old son, Lyle.
"We were just back from one of many amusement park trips and Lyle asked a simple question, 'Why don't we build our own rollercoaster, dad?'," Pemble explains on his blog.
"I couldn't think of a single good reason to say no so Lyle and I headed off to the lumber yard for a few supplies."
Six weeks later, Pemble - with the help of his son, his daughter Ellie, 12, and other family members - was putting the finishing touches on an amazing miniature rollercoaster they have dubbed 'The Caution Zone'.
The project - constructed using wood, metal and PVC - came in at a surprisingly reasonable $3,500 (£2,075), but before you tear up your theme park tickets consider that it required an eye-watering 300 hours of manpower to get the ride up and running.
Word got around about his unusual approach to education, and fans came forward with requests for their own back garden rides. Just weeks after completing his own rollercoaster, Pemble began building one for a neighbour's son.
Physics enthusiast Pemble, 50, now dedicates his spare time to developing and building backyard rollercoasters while exploring the maths and science behind them on his blog, coasterdad.com.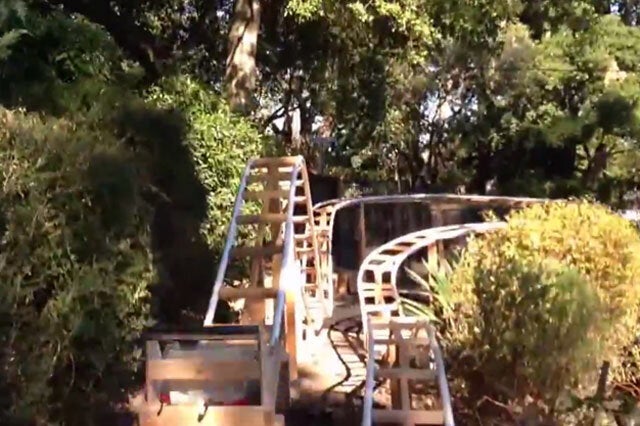 For Pemble, it's not just about giving kids a great time. "Our mission is purely to share our love of physics, family, and fun," he states on the blog.
He encourages Lyle, who says he wants to become a rollercoaster designer, to immerse himself in the maths and science behind the rides. "There needs to be something on the other side of that math that's worth slogging through the math," Pemble told news network CBS.
However, Pemble admits that the appeal of the 'cool dad' points he stood to gain with Lyle and Ellie was not lost on him.
"How cool would it be for my kids to say when they're my age, 'I built a roller coaster with my dad in the backyard,'" he said. "I knew this was something they would always remember."