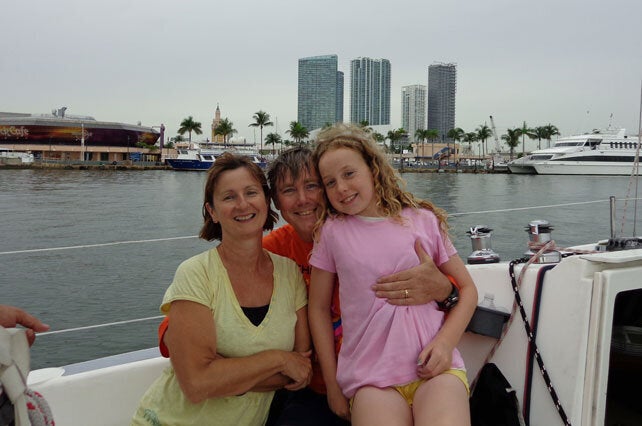 A mum has been left to bring up her daughter alone after her American husband was kicked out of the country - because he had cancer.
The Home Officeruled he had become a burden on the taxpayer and the NHS billed him £98,000 for the cancer treatment he had received.
Lorraine Marx, 56, is now bringing 10-year-old Alexandra alone after her husband Ralph was forced to return to America – despite having lived in the UK for 13 years.
The couple, from Chidham in West Sussex, married in 2001 but Ralph chose not to apply for residency status.
It meant the chemical engineer was allowed to stay in Britain for only six months at a time, but his work for an international company meant he often travelled abroad on business so the limit was not an issue.
But he was then diagnosed with acute lymphoblastic leukaemia and hospital treatment meant he was at risk of over-staying his visitor status.
Ralph, 56, surrendered his passport in 2012 and applied for UK residency but the Home Office rejected it and ordered he leave Britain immediately.
A later application from his new home in Tennessee was also rejected when the Home Office ruled he was at risk of drawing on public funds.
But Lorraine, a former Royal Navy chief petty officer, claims that when her husband was taken into hospital she revealed he had private health cover but was told that because his life was at risk his treatment would be on the NHS.
She said: "I pointed out that Ralph wasn't British but they were wonderful, telling me not to worry – as my husband, he was entitled to treatment."
A judge upheld the family's appeal in January, but the Home Office is contesting the decision and Ralph continues to live in America.
As a result, the couple's daughter, Alexandra, has seen her dad, who is now in remission, only once in the past year.
The NHS has since dropped its demand for payment, but the future hangs in the balance until the Court of Appeal's ruling.
A Home Office spokesman said: "We are appealing the decision because we believe it did not apply the immigration rules correctly.
"Our family rules have been designed to make sure that those coming to the UK to join their spouse or partner will not become a burden on the taxpayer and will be well enough supported to integrate effectively."
But Ralph said: "The Home Office is well aware that we are financially stable for the long term.
"I can only pray that I will get to see my family soon. I miss them desperately and hate the pain this is causing my wife and little girl.
"We are not scroungers. We can support ourselves and have done so all of our lives. But we are being treated as criminals."