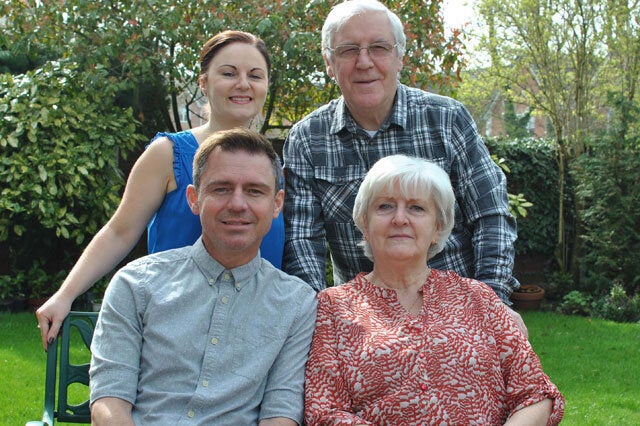 A man has become one of only a handful of people to receive multiple kidney donations from different members of his family.
Andy Knox, 42, was put on the transplant list aged 25 when his kidneys began to fail. His parents, Freddie and Teresa stepped in to be tested and were both found to be a match.
Teresa, 63, donated her kidney, and the operation was deemed successful. But after more than 50 hospital visits over the next eight years, Andy's donated kidney began to fail.
In 2006, Andy returned to the Royal Liverpool University Hospital for his second transplant – this time donated by his dad Freddy, 67.
Again, the operation was successful, but seven years later one of Andy's kidney again began to fail. He was forced to go back on dialysis, and was running out of options when his sister Helen, 33, stepped in and was tested.
Helen was also a match, and two weeks ago both went in for surgery, which again was a success.
Speaking to reporters, Andy, who has a 15-year-old son called Bailey, said: "In the space of two weeks I had gone from being on top of the world to being told I may only have six months to live.
"Mum, dad and Helen have all put their own lives at risk to make my life more comfortable and I will be forever grateful for that. They can see that I am not taking it for granted by keeping myself fit and active. Some people can be dialysis for 10 or 20 years and never get a donor.
"Some eventually get one from a stranger, which is great for them but the added benefit I have is that I can thank my mum, dad and Helen every day.
"My son Bailey was born a year after my first transplant, so he's grown up knowing that I need a lot of treatment," Andy added. "He's still in school but he's a bright lad and just like the rest of my family he's very supportive. People I've met have said it's quite uncommon for people to have that many transplants at all, let alone all from their own family.
"The odds would have been incredible. Everyone we spoke to at the hospital said it was very rare to have three kidneys donated all from family members. It really does feel like I've had a new lease of life again, not for the first time, so I'm massively grateful to my family and all of the medical staff who have helped me."
After his first transplant, Andy took up a voluntary committee management role for Transplant Sport UK. He won two silver medals at the World Transplant Games in Australia and has also won medals at the Games in Thailand in 2007, Australia 2009 and Sweden 2011.
Abdul Hammad, a consultant transplant surgeon at the Royal Liverpool University Hospital, said: "We have seen many cases where a person has two or even three transplants. But Andrew is the first we have treated who has been fortunate enough to find three matches in his own family.
"It is wonderful they were able to help him in this way."