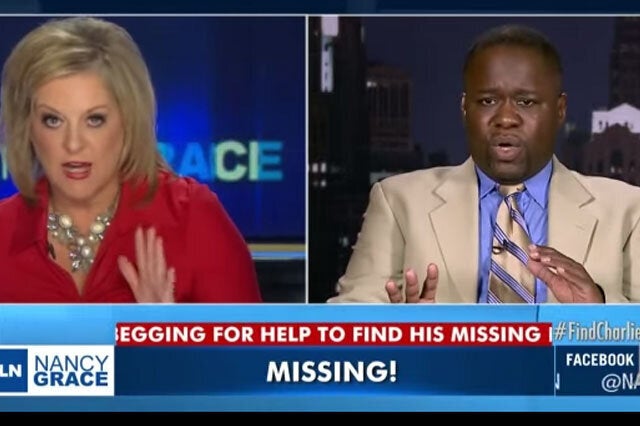 A dad whose son had been missing for 11 days learned on live television that the boy had been found alive in his basement.
Charles Bothuell was on TV news to talk about the disappearance of his son Charlie, 12, when the show's host suddenly said she had new information.
HLN presenter Nancy Grace said: "We're getting reports that your son has been found in your basement."
The father was stunned - becoming visibly upset and clutching his chest as he struggled to speak.
Story continues after video.
Charlie was feared dead after disappearing in Detroit on 14 June.
But on Wednesday, officers found the boy behind a barricade of boxes in his family's basement.
His dad told Nancy Grace that his family, Detroit police and FBI had searched the basement several times, saying: "God, they brought dogs, everything... Everybody has searched. Oh god, my son."
Detroit Police Chief James Craig told reporters: "I've never seen anything quite like this.
"But the outcome - I couldn't be happier."
Charlie was removed from the home and was given medical attention at a nearby hospital.
He was medically cleared and released on Thursday. Police Sgt Mike Woody said the boy was 'doing fine'.
Police also confirmed hey had searched the family's basement with a cadaver dog, adding investigators were not sure Charlie had been in the basement for the full 11 days.
The police have not ruled out the possibility that an adult was involved in hiding the boy in the basement.
Mr Bothuell he told reporters: "For anybody to imply that I somehow knew my son was in the basement is absurd and wrong. I love my son."
Police Chief James Craig told Detroit News that Charlie's parents 'have a lot of questions to answer'.