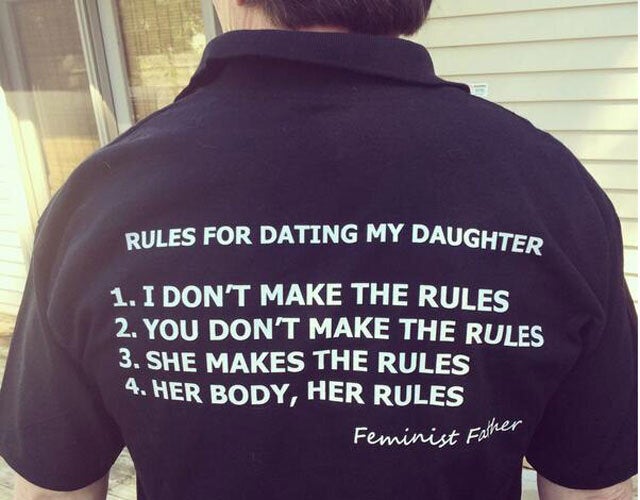 This proud 'feminist father' has gone viral after he posed in a T-shirt explaining his own version of 'rules for dating my daughter'.
It's an old joke that dads get so protective over their daughters that any boy who appears on the scene might find himself at the business end of a shotgun.
But this father takes a very different approach to being a 21st century dad, with a T-shirt which rejects the stereotype of the over-protective dad and emphasises his daughter's independence.
1. I don't make the rules
2. You don't make the rules
Tumblr user Kristine Speare posted the picture to her profile on the site at the weekend with the caption 'Happy Fathers' Day'.
In response to a follower asking if it was a picture of her own father, she was proud to confirm it was. "Yeah, that's my dad! I got him that shirt for father's day and now his back is kinda famous," she explained.
'Kinda' is an understatement. The inspiring photo proved a smash hit on Tumblr, where it has been liked and shared over nearly 189,000 times.
On Twitter, the image was retweeted nearly 300 times, where it even attracted approving comments from ex-Neighbours star Caitlin Stasey, who played Rachel Kinski in the soap but has gained a substantial Twitter following for her outspoken feminism.
The 'feminist father' shirt is the latest in a series of recent high-profile social media protests against misogyny in wider society.
Just three weeks ago, a Canadian schoolgirl made the headlines when she was sent home from school for wearing shorts that were 'too short' and responded with posters declaring the school's uniform policy sexist.
The posters, which she stuck up around the school, read: 'Don't humiliate her because she's wearing shorts. It's hot outside. Instead of shaming girls for their bodies, teach boys that girls are not sexual objects.'