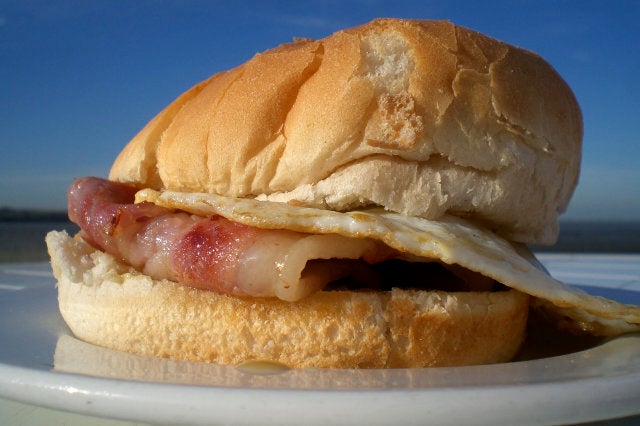 A dad stabbed his 15-year-old son through the heart after a row over bacon rolls.
John Lennox, 49, attacked his son Brendan, after the teenager flew into a rage about not being given the first bacon roll his mum had made.
The argument turned into a fight which resulted in the father producing a knife and stabbing his son. The boy was rushed to hospital where his life was saved.
The extraordinary chain of events was revealed to the High Court in Glasgow where Lennox was jailed for eight years for assault.
It was told that Brendan's mother Davina Miller, 37, was making bacon rolls for the father, son and some friends at their home in Dennistoun, Glasgow.
Brendan lost his temper when he was not given the first bacon roll and began shouting and swearing, before storming out the house.
As he left he slammed a door which hit his mother. When Brendan walked back into the house he got into a fight with his father and the television was overturned.
Lennox then produced a knife and stabbed his son twice, with one of the blows going through his heart.
The jury heard that after stabbing his son, Lennox said: "How did that feel."
When his mother saw the blood she screamed at Lennox: "You've stabbed our boy in the heart. We nearly lost him."
Davina and her son moved out of the family home after the incident.
Lennox had denied stabbing his son and claimed that he may have either stabbed himself or been stabbed by one of the other people in the house that night.