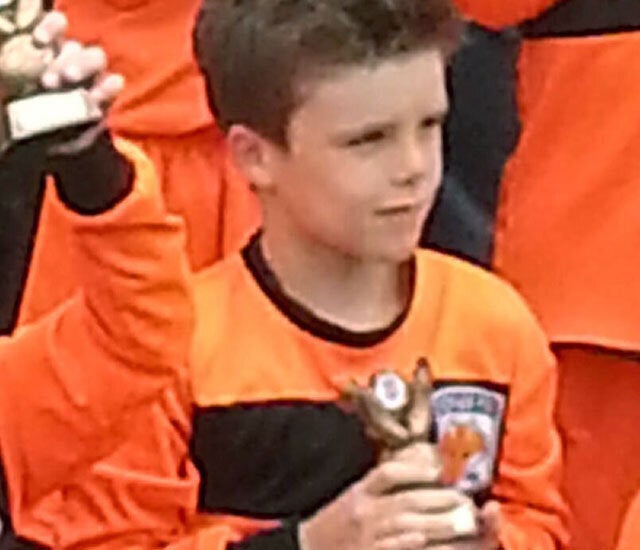 David Beckham has received his fair share of trophies during his illustrious football career.
But he had an extra special reason to be proud on Sunday – when he presented his own son Cruz with a trophy for winning an under-9s cup final.
And rather than be embarrassed by his famous dad's display of fatherly pride (as many of our sons would be), the nine-year-old looked delighted.
Wearing a tweed cap and khaki jacket, former England captain David, 38, mum Victoria, 40, and daughter Harper, two, stood with other parents as they cheered Foxes FC in a 3-1 win over local rivals rivals Sandgate FC – with Cruz scoring the second goal.
David then handed out awards to the players.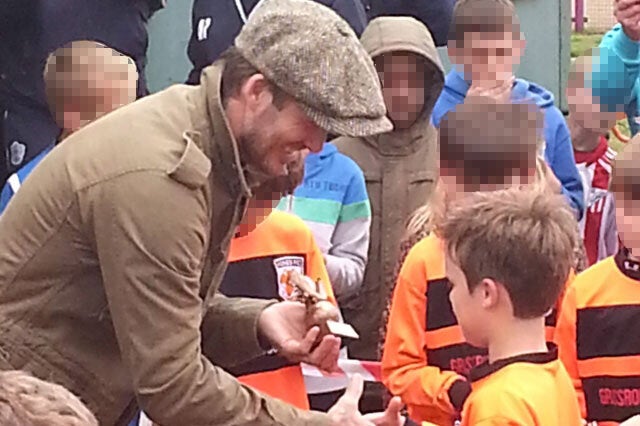 Spectator Dennis Gewitzke was at the west London football ground to support his own son Thomas, 16, who was playing in a different match.
He said: "I couldn't believe it when Beckham showed up with his family. He stood there like any other dad - shouting encouragement at his son's team. Victoria was stood behind holding their daughter as well.
"Cruz is a good little player. He went through two of the opposition before putting the ball in the top corner - it was a really good goal."
He added: "His celebration was brilliant too - he did a somersault as he ran back to his own half. After the game, Beckham handed out trophies to the team and then posed for pictures.
"He was just like any other dad. Victoria didn't stick around long though. Thomas really wanted a picture with her, which was a shame.
"It was nice to see Beckham acting like any other dad.
"He did say that he didn't want to get interrupted while his son was playing, but afterwards he posed for a few pictures."
Last month it was announced that keen footballer Cruz has joined his older brother Romeo, ten, and signed for Arsenal's youth team, playing with their under-9s.