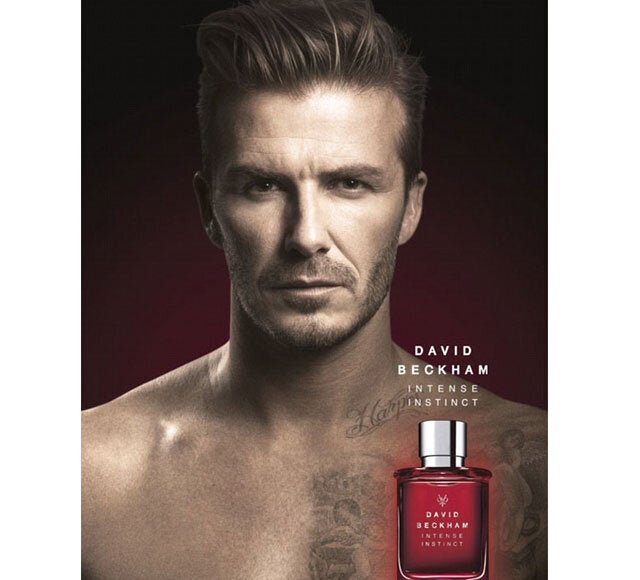 While many of us wear our hearts on our sleeves, David Beckham prefers his a little closer to his collar!
The superstar dad is so proud of daughter Harper that he has had her name tattooed on his clavicle, above his chest, and he has shown it off for the first time in a new fragrance ad.
The inking sits just above his tattoo of Jesus being carried by three cherubs, which are meant to symbolise sons Brooklyn, 12, Romeo, eight and Cruz, six.
David said at the time: "It's Jesus being carried by three cherubs and obviously the cherubs are my boys and so my thought of it is that at some point my boys are going to need to look after me and that's what they're doing in the picture. It means a lot."
The 38-year-old showed off his new inking as he posed topless in the new advert for his fragrance, Intense Instinct.
The fragrance's description reads: "Inspired by David's sharp judgement, self-belief and his ability to overcome any obstacle, Intense Instinct is an aromatic and fruity fragrance that will inspire any style-conscious, focused and driven man."
David said: "Intense Instinct is an invigorating and contemporary fragrance for men with green, luminous notes and woody undertones.
"I believe it's important to trust your instincts in life and this has inspired this new limited edition of my fragrance."
David has been the top selling male celebrity fragrance since 2006, with Superdrug selling more than 1.5 million bottles bearing his name. However, he has just been overtaken by Beyonce's husband Jay-Z, who launched GOLD JAY-Z on Valentine's Day.