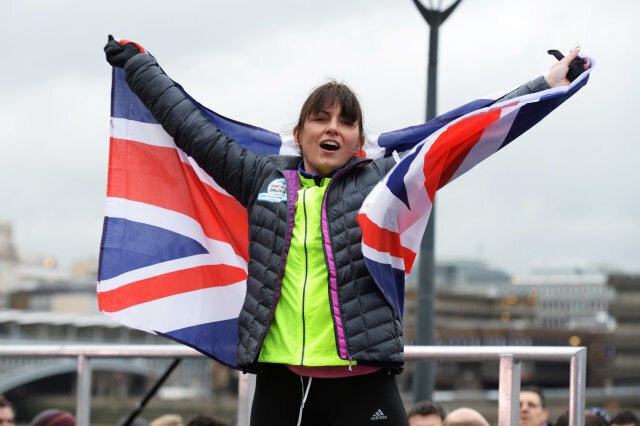 Anyone who followed Davina McCall's lung-busting, character-testing, spirit-crushing mammoth effort for Sport Relief can't have failed to be moved.
The mum-of-three, normally known for gurning on a variety of reality TV shows, won a legion of new fans during her heroic 500-mile Edinburgh-to-London run-cycle-swim trek last month – us included.
At one point, our knuckles were in our mouths as Davina became so exhausted that her limp body had to be hauled out of Lake Windermere in Cumbria. But she carried on and raised almost £1million for charity.
Her efforts didn't just take their toll on her body – the immense challenge also put a strain on the 46-year-old presenter's marriage to former Pet Rescue TV presenter Matthew Robertson.
Davina, whose magnificent achievement is documented in a special BBC1 show DAVINA: BEYOND BREAKING POINT at 9pm tonight (Thursday), revealed: "We just had a really difficult six months. Matthew's dad was ill and I was doing the challenge and he had hurt his shoulder.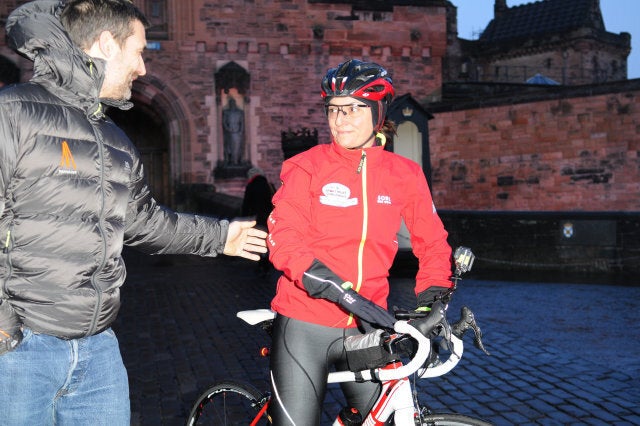 "We were not arguing but it had been tough for the both of us. We both had been in a kind of tough place but now we are here, we have been on holiday.
"Getting through stuff like that makes the next step better. If you never give it a chance to get through something very difficult then you never get to that step where you think, 'I know you, and you know me.'
"You always have to think when you are in a relationship that if you have a tough six months then that is nothing in the scheme of things.
"When you are in your twenties and you have a tough six months then that is a break-up. When you are married it is nothing."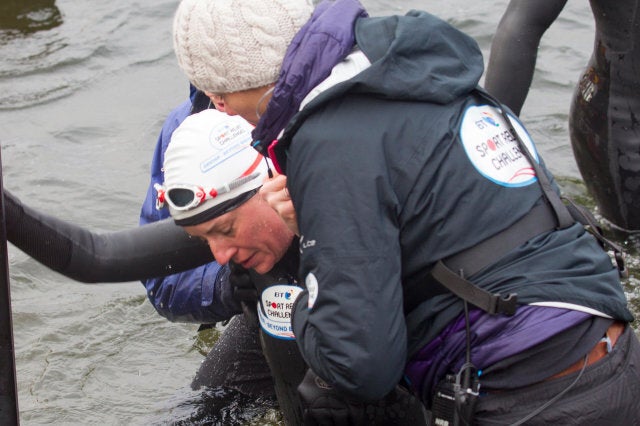 Davina told The Guardian: The first day was so frightening. Four hours in and I got the first signs of hypothermia, and I was just sobbing and saying, 'I can't do this.' I was half hoping that someone would say, 'It's OK, don't worry – we've got someone else to come and do it.'"
"I'm normally a chipper person. If you're in a positive state of mind you can cope with pain and jolly yourself along, but I had moments when I went into a very dark mental place."
When her husband Matthew saw footage of her being dragged from Lake Windermere semi-conscious, he got in the car and drove for six hours to meet her. "At the time I didn't feel embarrassed at all by my tears, because I was too tired to give a hoot what anyone thought. But I have felt slightly embarrassed about it since. Because normally I can always put a lid on it, and I was just incapable."
Davina has told how she was still feeling the effects of the huge Sport Relief challenge, which saw her swim, run and cycle through some horrendous weather.
She said: "My knees are a little bit iffy but apart from that I'm good.
"It was a lot to do but I did train a lot for it and when it came to February I could not do any more.
"You can't train for something like that - it is so much exercise and the one thing I did not factor in was the weather. We had horrific weather.
"It was more than a case of mind over matter in the end, it was a case of getting up out of bed and finding a place in your head and saying, 'Let's do it all over again.'
"Matthew was worried when I came out of the water. When he saw me on the bike afterwards, he laughed and said, 'I can't believe having seen you pulled out of a lake this morning you are now on a bicycle.'
"He was very supportive but I am sure he wanted to rescue me."
Davina, whose children are Holly, 12, Tilly, 11, and Chester, seven, said she was proud to have completed the challenge and said it was all part of her plan to NOT act her age - which also includes wearing whatever she wants.
She said: "The key is to grow old disgracefully. say look after your skin, that is where it is at. You have to exfoliate and exercise. That keeps you younger as you can still run after your kids.
"You have to be pretty excessive for exercise to be unhealthy. It cannot be sold as a bad thing.
"And never say, 'You can't wear that.' I love a play-suit. I am 46 and I don't care. The key is not to think too much about what is age-appropriate. I mean, who cares?"
Respect, Davina, respect! Take your place on the pedestal with those other great showbiz charity saints, David Walliams, John Bishop, Eddie Izzard et al.
To donate to Sport Relief and continue transforming lives, click here.