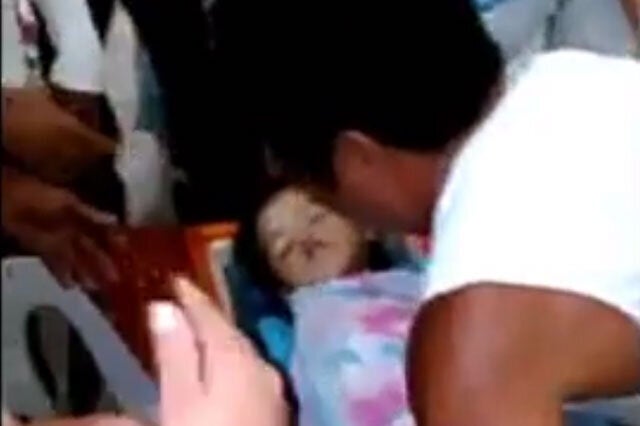 The three-year-old child, who has not been named, had been suffering from severe fever for days.
She was pronounced dead on Saturday morning at a clinic in the family's hometown of Aurora, in the south of the island nation.
A video captured by an onlooker appears to show the astounding moment when the toddler's family and friends realise that the toddler is still alive.
Story continues after video...
The footage shows the child stirring as she lies in her coffin, with mourners crowding around as they realise what is happening.
She is then lifted out by her stunned father, prompting gasps and shouts of "Dios!" (God!), before being rushed away wrapped in a blanket.
The case is being investigated by authorities, but Heidil Teelan, the local police chief, has confirmed that the incredible tale appears to be genuine.
"The attending clinic personnel and physician confirmed that the young patient had no more pulse and was clinically dead," he told PhilStar.
According to Teelan, it appears that the child's parents only learned that their daughter was not dead when a neighbour opened the coffin inside the church to help arrange the body and noticed her head move.
"This prompted them to check and confirmed the girl had pulse and was alive," Teelan said, going on to add that the child's family first rushed her to a doctor, before taking her home.
Teelan confirmed that the little girl, who will now be treated at a hospital in the province, was still alive as of this morning, although she remains in a 'comatose' state.
UPDATE: Local media are now reporting that the child has passed away.