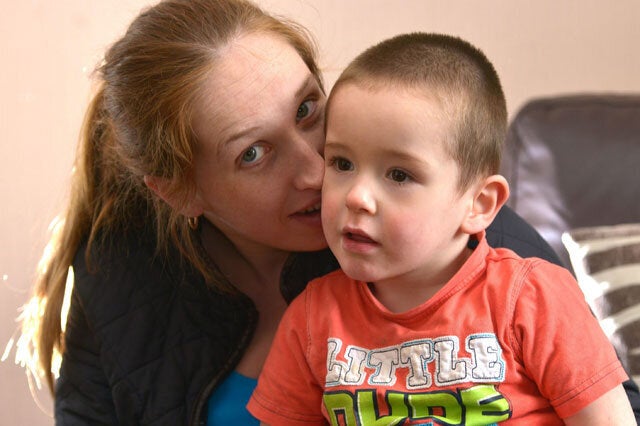 A deaf toddler couldn't hear his mum sing him 'Happy birthday' after heartless thieves stole his hearing aid just days before his third birthday.
Dominic Harrington's hearing aid was stolen during a burglary at the family home in Rochdale, Greater Manchester.
His mum Samantha – who is seven months pregnant with her sixth child - said: "Everybody takes for granted saying things like 'night, night' and 'I love you'. But it's his birthday and he won't hear me say 'Happy birthday', he won't understand.
"He can't talk yet and he's too young to learn sign language."
Samantha and Dominic were upstairs with his siblings Libby, 10, Ryan, nine, Vikki, seven, and Alex, four when burglars sneaked into the house and snatched a laptop and the handbag containing the hearing aid and birthday cash.
Dad Gavin, 33, was walking the family's two dogs at the time. Samantha said: "I was upstairs and didn't hear anything.
"They were watching and waiting for us to go out of the house, no one in their right mind would come into the house with the dogs.
"If I'd have come down the stairs what would have happened? Would they have hit a pregnant woman? What use the hearing aid is to anyone is beyond me - it's programmed for his ears alone."
Dominic was born 13 weeks early. As well as his hearing problems, he has chronic lung disease and global development delay.
Police later recovered the handbag but the hearing aid and cash are still missing.