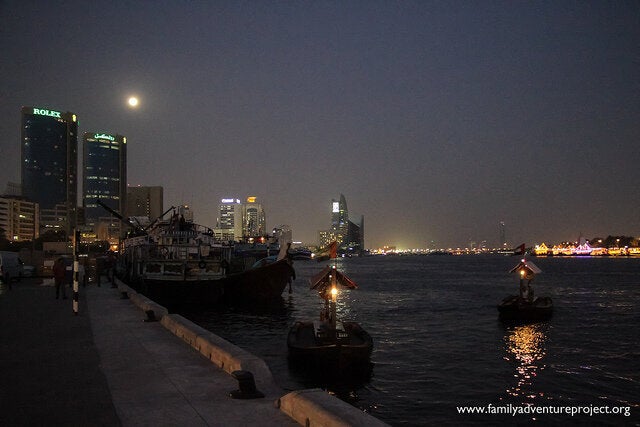 We weren't sure we'd love Dubai. Or that there would be enough for us to do in its desert landscape. We are an active family, and we'd heard rumours of other families barely leaving the pool or the mall.
But the reality was that we were so busy we hardly had time to put a towel on the sun lounger.
If you're tired of European destinations and want to dip your toe into a more exotic landscape and culture, but don't fancy chaotic streets or a 15 hour flight, then Dubai might be a good place to take the family on holiday.
Here are three reasons why...
Dubai is a wonderland for young children
Imagine gazing up to the heights of the tallest building on earth. Now imagine doing it when you are pint sized yourself! The Burj Khalifa is just one of the fantastic, futuristic skyscrapers dominating the horizon of this United Arab Emirates state.
And at night these buildings really glitter- see them from an open top Big Bus Tour for full effect. Take in the Dubai Fountains too; a free and spectacular water show.
Your children might find the new sandcastle version of the cityscape at Jumeirah Beach more their size. Set them the challenge of copying it with their bucket and spade.
And if they run out of steam with sand they can build their own burger at The Counter near The Beach. You can get any kind of food in Dubai; all the big chains are here so you shouldn't have any problems with fussy eaters.
Jumeirah Beach Residence is a playground for both adults and children, but you can't beat the Dubai Miracle Garden (opens Sept-June) for space to wander among 45 million flowers, shaped into butterflies, hearts, toadstools and myriad other creations.
If the kids get too hot and bothered in the outdoors you can cool them in a mall. The Dubai Mall has KidZania; a world of jobs where your 4-16 year olds can be whatever they want to be. And who can resist being a firefighter with a real hose and engine?
If they are feeling more athletic they can sledge or toboggan at Ski Dubai in the Mall of the Emirates, where they can meet penguins, too.
Meanwhile the Lost Chambers Aquarium at Atlantis The Palm is a riot of sea creatures and marine life; there are 65,000 residents living in its 11 million litres of seawater. Feeding time is great fun. There's a dolphin conservation centre there too.
And you can't visit Dubai without checking out the oldest dude in town: a dinosaur. Yes really. It is in a mall. But you can't buy it.
It's easy to keep teens amused
To be honest I can't think of many places that cater so well for the British teenager. The malls seem built for them, stuffed with every brand they know and love. Between browsing they can go ice skating or skiing, go indoor skydiving at iFly or gaming in the Sega Republic Indoor Theme Park.
But the thrills aren't restricted to the malls; we slept in the desert under the stars and had a go at camel riding and sand boarding on Expedia's overnight Desert Safari. Dune bashing was a highlight; you can't beat a top speed ride over dunes in a 4x4, can you?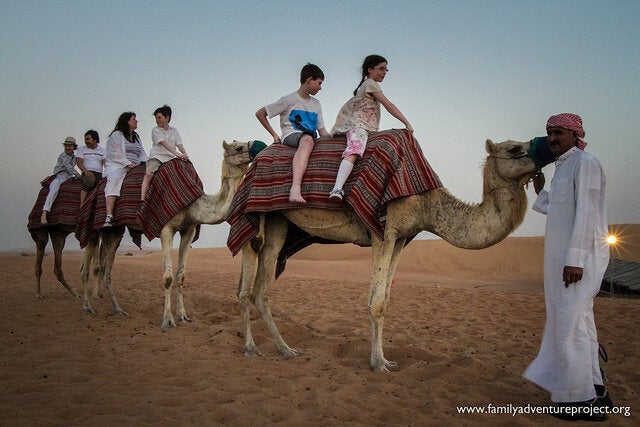 Oh yes, actually you can. At Yas Island's Ferrari World, near Abu Dhabi, you can go on the world's fastest roller coaster.
If your teen is still after a car related thrill then they can watch you drive an F1 car at the nearby Yas Marina Circuit. (Or on a Tuesday night you can all hire bikes and ride round the circuit- much slower but you'll earn your tea and cake afterwards!)
But you can't talk thrills in Dubai and not mention the waterparks. Aquaventure at Atlantis The Palm, Wild Wadi, and Yas Waterworld on Yas Island - all are world class and all within striking distance.
If you have truly fearless teenagers, get them to try out the capsules where the floor falls away. There was no way I was going in one.
It's hassle free for parents
Alcohol is not freely available in Dubai, which may put you off in theory. But you shouldn't have problems getting a beer or glass of wine if you are staying in a Western hotel, and the alcohol free cocktails and hangover free mornings are a pleasant surprise.
The heat can be intense; I took my flip flops off for a moment on the sand and was hopping around like a rabbit. But as a parent, Dubai is rewarding in ways you don't expect.
We found it cheaper than many European destinations. Pretty much everyone speaks English. Outside peak months the heat is manageable, and there's always a mall to chill out in.
If you hire a car, attractions are easy to get to and parking is often free. But there's a futuristic metro system too and grabbing a boat to get you across the river to one of the little museums or a souk is an essential part of the Dubai experience.
So did it suit us in the end? You betcha. We had a blast, going faster and higher than we ever have before. I want to go back and do a family skydive in the desert. I challenge any family to visit this city of bling, and not get bedazzled.