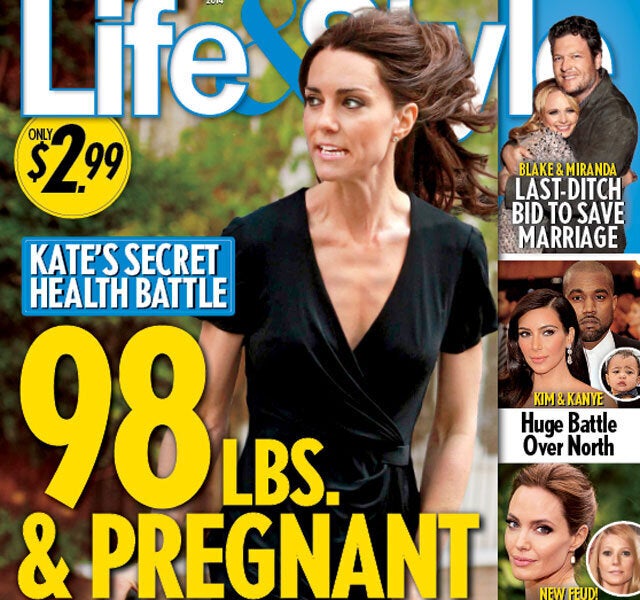 A US tabloid magazine has published sensational claims that the Duchess of Cambridge is pregnant with a second baby while weighing only 98lbs (that's 7st), apparently causing panic in the Palace. Does it get any more loopy than this?
It's been a tough week for poor Kate. First, German rag Bild am Sonntag published some rather ungallant snaps of the royal posterior taken when a gust of wind lifted the duchess' skirt during the royal tour of New Zealand.
And now the US have joined in, with scandal sheet Life & Style publishing a front-page 'exposé' of Kate's hidden pregnancy and the family's fears for her health as she apparently dips below 100lbs.
i
According to the 'source', there have been scenes of pandemonium at the palace, with Prince William tearing his hair out over his wife's 'secret health battle'. So secret, in fact, that we haven't seen the faintest sign of it.
i
In fact, in what seems like perfectly robust health, Kate will be heading up to Scotland with William tomorrow, under their Scottish titles of the Earl and Countess of Strathearn.
Their day of engagements includes a tour of the Famous Grouse distillery, so expect to see all eyes on Kate accepting a tipple. If she doesn't happen to feel like getting boozed in public in the middle of the day, the pregnancy rumour mill is sure to start churning fervently once again.
It's true that Kate has been out of the public eye since the family's return from their tour of Australia and New Zealand - but who can blame her for wanting some peace and quiet with Prince George after the rabid scrutiny she (and especially her belly) faces every time she goes out in public?
Funnily enough, it was only the other day our columnist Louise Baty was at her wit's end over the constant speculation about Will and Kate's future baby plans. As a stressed-out and anxious new mum, there's nothing worse than being hassled to give a due date for baby number two!
Most of us enjoy checking out the sensational headlines on gossip mags while in the queue at the supermarket (even if it's just for a giggle), but for poor Kate it must be a nightmare! What will they come up with next!
UPDATE: Kate was indeed snapped swigging Famous Grouse as she and Wills toured the legendary whiskey distillery on their trip to Strathearn, so we can all stop knitting baby booties for the time being.