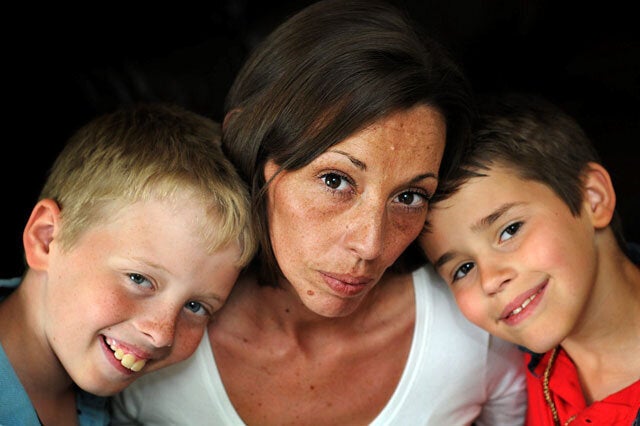 Kelly Murray, 33, has lost half her teeth because a cancer-like illness has caused the bones in her mouth to disintegrate.
She was diagnosed with the rare disease Langerhan Cell Histiocytosis, which affects one in one million adults, 12 years ago.
She now faces the prospect of dying before she has a chance to see Bradley, 10, and Louis, nine, grow up, so she is desperate to smile again to enable her to enjoy the time she has left with her sons.
Kelly, form Whittington, Derbyshire, suffered two collapsed lungs when she was 20, and went on to become the only person with the illness to carry her own children.
Langerhan Cell Hisiocytosis, or LCH, is an extremely rare cancer-like disease that attacks the organs. It causes pain in the bones, spontaneous fractures, loss of teeth and extreme fatigue as well as weakness, seizures and collapsed lungs.
It can affect a sufferer's memory and affect the pituitary gland, leaving the disease to spread from one organ to another.
At the start of last year, Kelly's condition began to deteriorate. She's now been told by doctors that she has just 12 months to live.
She said: "I find it hard to accept that I won't see my sons grow up. I want to see them grow into young men. I don't want to miss their first day of secondary school.
"I have always tried to keep on going, but you know your own body, and I know. I can barely lift things.
"Sometimes the pain is so bad and I don't sleep, and if I do I wake up gasping. I'm more tired and I feel weaker."
Kelly has to use an oxygen tank because the disease has cut her lung function by 60 per cent.
Now her friends Karla Wilkinson and Sherralyn Newton want to raise money so Kelly can have veneer dentures fitted and be able to smile again.
Kelly said: "It would give me my confidence back, and I could pose for pictures the boys could look at for years to come, even after I'm gone."
Karla added: "We're also hoping to get her and the boys a private photo shoot and maybe a holiday so the boys have memories to last along with Kelly's smile."