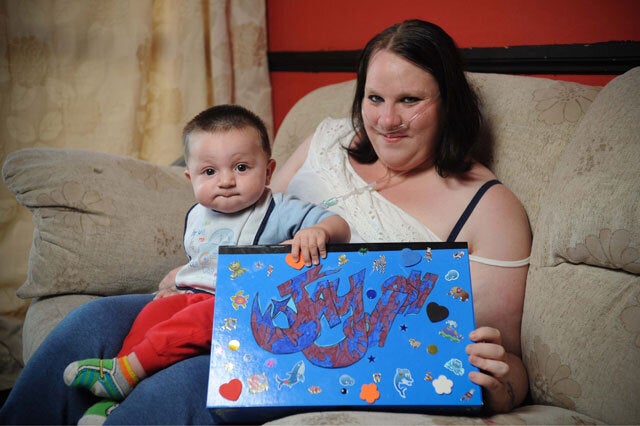 A terminally ill mum has been told the cancer that is killing her may have also spread into her newborn baby's body.
Dani Maloney, 26, has only weeks to live because of skin cancer that has spread to her legs, lung and spine.
She gave birth to her son Jayden six months ago – and now doctors fear his mum's cancer could have travelled into his body when he was in her womb.
Jayden is now having tests at Birmingham Children's Hospital and Dani can only hope and pray that he's in the clear.
The mum has now made a heartfelt plea to readers of her local newspaper, the Birmingham Mail, to check themselves for moles and blemishes.
She said: "I want people to know how important it is to have any mole or skin blemish they're concerned about checked out.
"And don't be afraid to challenge doctors, don't be afraid to ask for a second opinion, and a third."
Dani, who also has a three-year-old daughter, Amina, said she told doctors last year about an angry, spreading mole on her leg.
She said she was told that it was probably nothing, because skin pigmentation changes are common during pregnancy.
However, as part of the mum's antenatal care, Birmingham's City Hospital sent out letters referring Dani to a skin specialist in November.
Sadly, Dani didn't receive the letters because she was living temporarily at an alternative address.
It was only after she gave birth on January 14 that the alarm was raised by a nurse who cleaned and dressed her wound. By that time the cancer had already spread through her body.
She was rushed to Sutton Coldfield's Good Hope Hospital six weeks ago with suspected pneumonia. Last week, she was told she had two months to live and returned home to die.
Dani said: "I didn't take it well, I didn't take it well at all. 'Why me?' I ask that all the time."
"It upsets me because I won't see my kids grow up. I won't be there on that first day at school. I won't be playing games with them at birthday parties.
"I want them to remember me, to be happy, to do well, to go to university. I want them to make me proud."
To that end, Macmillan nurses are helping Dani place pictures, letters, videos and arm bands in memory boxes for her children.
One even contains Jayden's umbilical cord. "The notes say I love them and I will always be there for them. I've told them never to forget me."
Dr Roger Stedman, Medical Director at Sandwell and West Birmingham Hospitals NHS Trust, said: "We are extremely sorry to hear about Dani's situation and wholeheartedly back her call for anyone who has concerns about a suspicious mole or skin blemish to seek advice at the earliest opportunity.
"As part of her antenatal care a rapid access referral was made in November for Dani to see a specialist at our skin centre in December and January, but unfortunately she failed to attend on both occasions and her GP was informed."