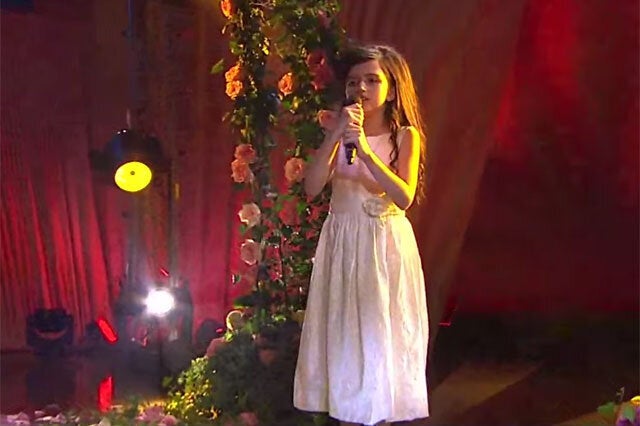 If you've seen the clips of her performances, it'll come as no surprise to you to learn that the uber-talented girl, now aged eight, has walked away with first prize in the contest.
The youngster's soulful renderings of jazz and blues standards made famous by the likes of Billie Holiday and Frank Sinatra wowed the judges as well as the audiences, with one judge saying her voice gave him 'goosebumps'.
The clip of her first audition, singing Gloomy Sunday, has garnered millions of views on YouTube from admirers all over the world, with her deep and mature voice drawing comparisons to legendary artists from Ella Fitzgerald to Amy Winehouse.
Many commentators have remarked on the spookiness of hearing the voice of a throaty torch singer coming out of a fresh-faced little girl who seems shy and retiring in her interactions with the judges.
But in her own way, Angelina is already a veteran - she has been taking singing lessons for four years. Her mother, Sarah, says she first realised her daughter had an amazing talent when she heard her crooning along to Whitney Houston aged just 18 months.
She followed her hit first audition with equally self-assured performances of Fly Me To The Moon, Bang Bang (You Shot Me Down) and I'm A Fool To Want You, before carrying off first prize in the final episode with a chill-inducing version of Gershwin standard Summertime.
In an interview, Angelina explains that she was inspired to try her luck on the TV talent show by watching Simon Cowell on The X Factor. She dreamt of appearing in front of him to sing Louis Armstrong's 'What A Wonderful World'.
As the winner of Norske Talenter, Angelina will receive a cash prize of 500,000 kroner (just over £50,000), in addition to the worldwide fame her bluesy vocals have attracted. In spite of this, she told an interviewer backstage after the finale that she wanted to remain a 'normal girl'.