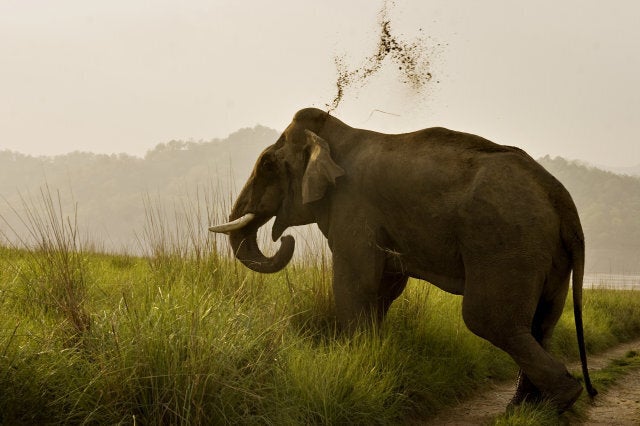 An Indian family has told reporters of the moment an elephant knocked down a wall of their house, trapping their infant daughter under the rubble - only to rescue her from the debris with its trunk.
The family was eating dinner at their home in a village in West Bengal when they heard a smashing sound coming from the bedroom. They were horrified to realise that a rampaging elephant had entered the village and knocked down a wall of their house, burying their 10-month-old baby.
"We ran over and were shocked to see the wall in pieces and a tusker standing over our baby," Dipak Mahato, the child's father, told the Times of India. She was crying and there were huge chunks of the wall lying all around and in the cot."
What happened next astonished them all: the elephant turned to go back into the jungle, but stopped when it heard the baby crying and returned to the house. As her parents watched with bated breath, the enormous beast used its trunk to lift chunks of brick and stone from the little girl.
Once it had cleared away the debris covering the baby, the jumbo calmly lumbered back into the jungle. The child was taken to a nearby hospital, but medics found nothing more than cuts and bruises thanks to the elephant's incredible swift action to free her.
Lalita Mahato, the mother of the little girl, said the rescue was a 'miracle' from Ganesh, the Hindu god with the head of an elephant, who is worshipped by the villagers.
Samir Bose, a local ranger, added that the amazing rescue suggests that the jumbo 'seems to have a heart', despite being suspected of damaging several houses in the area and killing three people.
Human development of areas that cross traditional elephant migration routes has led to an increasing number of deadly confrontations between man and beast in the region.."