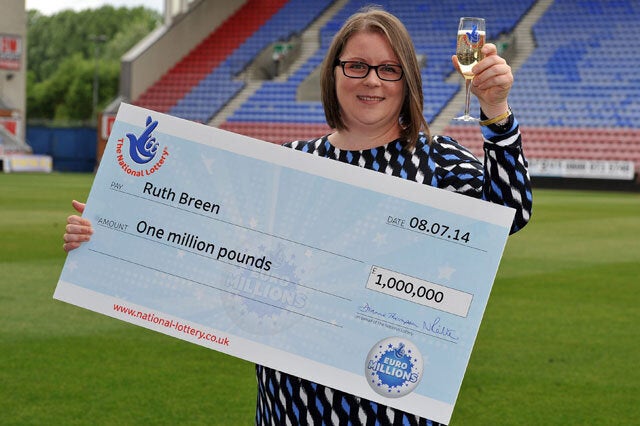 A midwife is celebrating the largest delivery of her career - weighing in at a whopping million pounds.
Despite admitting that the sum was 'life-changing,' single mum Ruth Breen, 35, has vowed to keep working as a midwife at Wigan Infirmary.
"I love my job." said Ruth.
"Delivering babies is like winning the lottery in that both are a huge privilege and honour - but thankfully there isn't as much paperwork with a big cheque."
The mum-of-one from Wigan, says picking a winning EuroMillions Raffle ticket has transformed life for herself and her 11-year-old daughter Lucy.
"It's absolutely incredible," she told the Manchester Evening News. "It's gone from having to be very very careful with money, which has always been tight, to having a million.
"We've always had no cash to spare, and every penny counts, there have been no treats. Times have been very hard, we've not been able to have a landline and the first thing Lucy said when we won is 'can we get wifi now?'"
Ruth's first purchase with her winnings was a pair of Jimmy Choo shoes. But while her feet are now designer-clad, she's keeping them firmly on the ground and has less extravagant plans for the rest of her riches.
She intends to pay off her mortgage and fund Lucy's secondary education at a private school.
Ruth will also be donating to the Amanda Penk Fund, a maternity charity set up following the sudden loss of Ruth's close friend and fellow midwife Amanda in 2009.
She will also be treating herself and Lucy to a holiday next week. However rather than jetting off to a faraway shore, they will be staying in her sister's caravan in Yorkshire.
The holiday will give Ruth time to reflect on her win, which took her completely by surprise. She learned that she'd become a millionaire when she logged into her emails after arriving at work.
"I actually couldn't believe my eyes - I was in shock and had to call my manager over to look at the cheque," she said. "I just kept counting the zeros over and over - there were so many of them it was phenomenal."
Huge congratulations, Ruth!