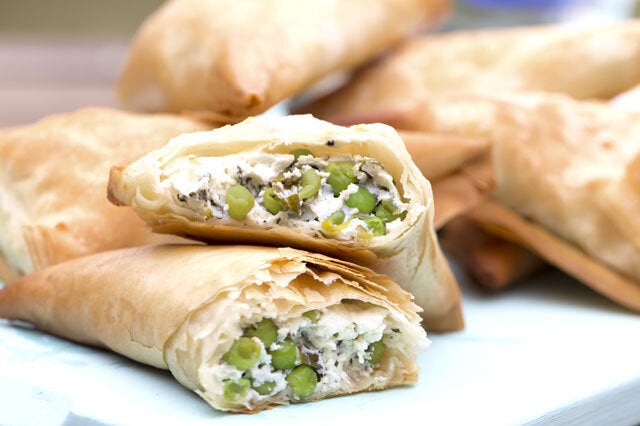 Feta Cheese Triangles
by
Great British Bake Off star Cathryn dresser
These crispy cheesy pastry triangles are great for picnics, snacks or lunches.
Prep time:30 minutes
Cook time: 20 minutes
Makes:
8
80ml oil, plus a little extra to grease the baking trays
A bunch of 8 or 9 spring onions, finely chopped (or snipped with scissors)
A handful of fresh mint, finely chopped
75g unsalted butter, melted
1. Preheat the oven to 200/180 fan/gas mark 6. Lightly grease two baking trays.
2. Heat 1½ tablespoons of the oil in a frying pan over a medium heat. Add the spring onions and cook for two minutes. Add the frozen peas and stir them all around so that they start to defrost and go bright green. Tip into a large bowl and leave to cool for about five minutes.
3. Stir the ricotta into the pea mixture, add the mint and season with salt and pepper. Pat the feta dry with some kitchen paper and crumble into the mixture with your fingers. Stir together, and your filling is ready.
4. Melt the butter in a small saucepan, then mix in the rest of the oil and set aside.
5. Open the filo pastry and flatten it out on the worktop. Cover it with a damp, clean tea towel while you work to stop the pastry from drying out.
6. You need three sheets for each triangle. First, take a sheet and lay it on the worktop, brush with the oil and butter mix, then lay another sheet straight on top. Brush this sheet with the oil and butter, then lay the third sheet on top and brush again.
7. Cut the pastry rectangle in half lengthways with a sharp knife, so you have two long rectangles.
8. Place two heaped dessertspoons of filling in one corner of the first strip of pastry. Gently lift the filled corner over diagonally and fold tightly to make a triangle shape. Continue to lift and fold, keeping the triangle shape, to the end of the pastry. You should now have a neat triangle parcel. Do the same with the other piece of layered pastry.
9. Repeat the layering, filling and folding until you have used up all the pastry sheets and filling. You should now have 8 triangle parcels.
10. Put the triangles onto their prepared baking trays and brush each one with the remaining butter.
11. Place them in the preheated oven and bake for 15-20 minutes until the pastry is golden brown.
STORAGE: Store in an airtight container in the fridge and eat within three days.