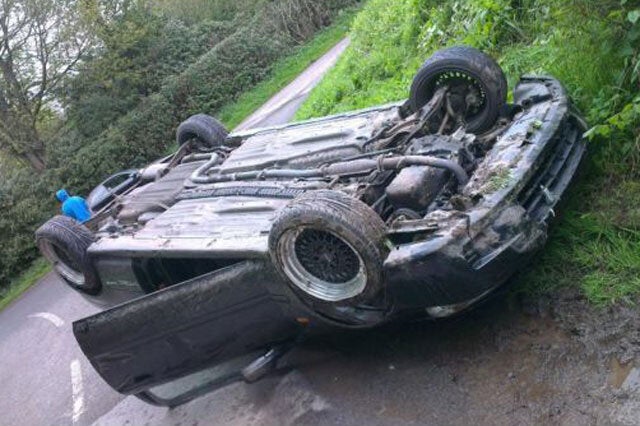 Remember when you were a kid and your parents threatened to give away your toys if you didn't behave? Well, that's just what one dad did - except his son is 17, and the toy was the teenager's new Honda Civic!
Steve Clark reached the end of his tether when his son Nat wrecked his new car just one week after passing his driving test.
Nat rolled the vehicle over while speeding around a bend near the family home in Angus, Scotland. He was unharmed in the accident, but dad Steve was furious at his son's careless driving.
To add insult to injury, Steve had shelled out the £2,000 needed to buy the car just a week previously. So he decided to teach Nat a lesson about dangerous driving in spectacular fashion - by putting his son's car on internet trading site Gumtree.
Asking price? Just one penny.
"Due to son thinking he's Colin McRae I now have a 2000 Honda Civic 1.4 breaking for spares," Steve's advert on the site begins, noting acidly that the vehicle 'was fully serviced 5 days ago' and the 'interior is immaculate'.
"It seems a 1.4 was to much for him to handle," the ad goes on. "It seems his ambition outweighed his talent on this occasion. I can't think why! he's been driving for over a week now..."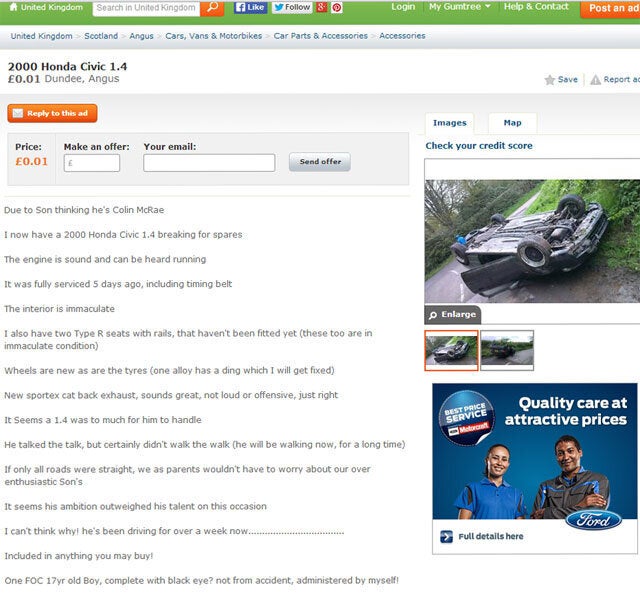 Steve, 55, explained that the advert was a last resort after warnings to Nat about his reckless driving went unheeded.
He wanted to emphasise 'how hard it is for us parents to sit at home ... wondering if they're going to come home in one piece,'" he told the Daily Mail.
He says has already received offers for the remains of the Honda Civic, ranging from £250 to a packet of biscuits.
As the hilarious advert shows, although Steve was motivated by real concern over his son's reckless behaviour, it didn't stop him seeing the funny side of his son's predicament. "He talked the talk, but certainly didn't walk the walk (he will be walking now, for a long time)," he observed grimly.
Steve couldn't resist one final dig at his boy racer son - who he described as 'mortified' by the attention the advert has gained - rounding off the ad with an offer to include 'one 17-year-old boy' free of charge.
However, he warned that Nat was not quite as immaculate as the Honda's untouched interior - the teenager, he adds, comes 'complete with black eye. Not from accident, administered by myself!' Let's hope that was another joke.