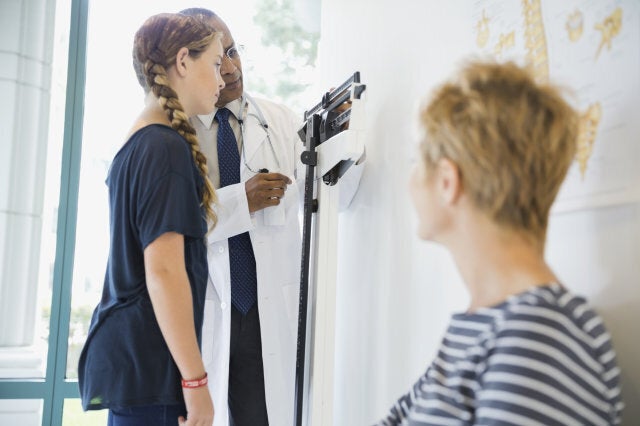 An 11-year-old girl became anorexic after receiving a letter from the National Child Measurement Programme warning that she was 'at risk of being overweight'.
Sophie Anderson was so shocked by the correspondence that she went off her food and started dieting, which led to her weight dropping to a terrifying 4st.
With her major organs on the brink of shutting down, she was only saved after being force-fed through a tube in hospital.
The teenager, from Norfolk, appeared on ITV's Daybreak programme, and said: "I had been a completely happy child but from around this time I started becoming more self-conscious about my body.
"The letter was certainly part of it. I am also a perfectionist, which makes you more susceptible to anorexia.
"I started off on a diet and it just progressed from there. I started losing weight rapidly."
She added: "It's ludicrous to weigh children at that age because before puberty you get a bit of puppy fat to prepare you for a growth spurt.
"I think that's very misleading and potentially very damaging for a child to be warned about their future weight at that time when they already becoming self-conscious about their appearance. I really believe it should be stopped."
Her mum, Mary, called for more to be done to stop the obsession with diets and weight.
She said: "The letter we got was typical of this problem. At the time, Sophie loved her food, she was a healthy little girl going through natural bodily changes.
"But they hear all this stuff about how 'you are going to be obese' and it really doesn't help.
"It's so important that we stress to teenage girls the simple fact that food is good for you and it keeps you alive.
"One of the shocking things about anorexia is that it's a mental illness, not just a physical thing.
"Sophie went from being a really happy girl to being a shell. There is a complete personality change. She got to the point where her organs were shutting down. She was at risk of dying."
Sophie also called for more to be done to raise awareness of anorexia in children.
She said: "I think it's really important that schools talk about eating disorders. I'm back at school and I feel so much better about everything so there is hope you can recover.
"My parents supported me but it took a massive toll on everyone and I just hope my story can help others to avoid going through what me and my family did."
Hundreds of children have been sent letters informing them they are overweight or obese since the controversial child-measurement programme started in 2006.
Assessments are based on BMI – or body mass index – which compares weight and height.
Critics say BMI does not account for muscle – so a rugby player could end up classed as obese – and does not account for height and body shape. This leads to taller people more often branded overweight as well as girls going through puberty who are developing breasts.
For help and advice about eating disorders, go to b-eat