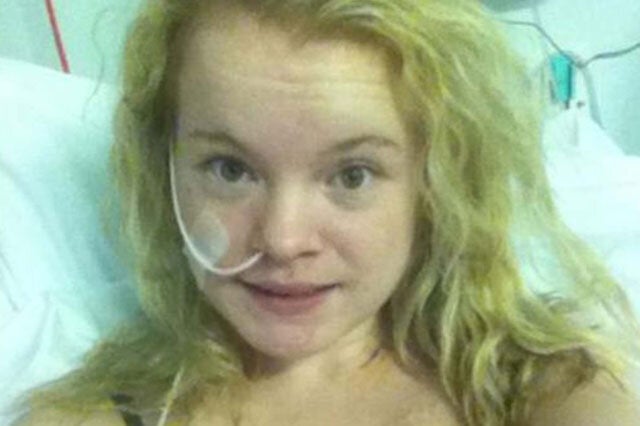 A teenage girl has a rare condition which means she hasn't eaten a meal for nearly FIVE YEARS.
Ayllah-Beau Foley, 19, from Cheltenham, suffers from gastroparesis, which paralyses the stomach muscles.
The only nourishment she gets is through a small tube directly into her jugular vein.
Ayllah-Beau's condition first developed when she returned from a volunteering project in India and felt sick.
Her mum Christine thought her daughter had a case of 'Delhi belly' but when the symptoms persisted Beau went to her GP. After repeated tests, the teenager was finally diagnosed with gastroparesis.
Christine said: "We were shocked to hear that her stomach muscles were paralysed - we had no idea that something like that was even possible, but it was a relief to get a diagnosis too.
"Beau had lost about three stone in weight, so it was great to think that something was finally going to be done and she could get better.
"But it soon became apparent that this wasn't the kind of diagnosis we had wanted."
Beau has tried various treatments since her diagnosis, including a feeding tube directly into her bowel, and a gastric pace maker, but none have cured her condition.
She now relies on a feeding tube that sends nutrients straight to her heart.
Christine said: "The tube she has now feeds nutrients into her jugular vein and transports them to her heart and the rest of the blood stream.
"She is fed for 14 hours overnight to keep her alive."
Beau said: "I still get cravings for things like chocolate, sweets and burgers.
"I might have a teeny tiny bite every now and then, just to satisfy the craving, but it's not the same.
"It's horrible because I used to love different foods so much, and now I can't have any of them.
"My twin brother, Jordan, is a soldier and sometimes it can be difficult seeing him so active when I'm cooped up in bed all the time.
"We can't eat cake together on our birthday - if I tried I'd just be sick. "I hope that one day, I'll be back to my normal self, but for now I try to stay as positive as I can."