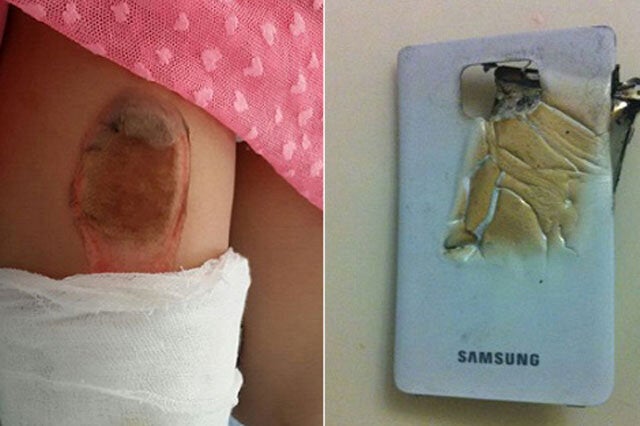 A seven-year-old girl has been left with horrific injuries after her smartphone exploded in her pocket.
Ariana Aitzhan's burns were so bad she had to have a skin transplant on her leg.
We don't want to sound unsympathetic here, and we wish the young girl a speedy and full recovery, but it does beg the question: what on earth is a seven-year-old doing with a Smartphone?
This mobile madness seems to be getting younger and younger.
The latest incident might be of a lesser order, but it is still an appalling thing to happen to a young girl who could quite possibly be scarred for life.
It happened when Ariana was playing in her garden in the Kazakhstan capital Astana when her parents suddenly heard screaming.
They rushed outside to see the remains of the Samsung Galaxy S2 model on the floor and the girl's friends saying it had exploded in her pocket.
Ariana was subsequently taken to hospital where she had a skin transplant.
Her father Yerlan recounted the harrowing moment he discovered the shocking extent of his daughter's injuries.
He said: "When it exploded she was screaming and calling for help, a neighbour that was nearest pulled her jeans off and said that some of her skin came away with it.
"The burn was horrific – it went all the way through to the bone."
Ariana's mother Alia Kamzina added: "She is in shock still, as are we all. She is now afraid of smartphones, she can't bear to even see one being used without being terrified."
Samsung have offered to pay for all of Ariana's medical bills and plastic surgery but Mr Aitzhan has so far refused to return the burned handset.
A Samsung spokesperson said: "We have found that the battery used in the device was not supplied or manufactured by Samsung or a company authorised by Samsung.
"We sincerely wish our customer a swift recovery, and would like to assure consumers that we have always employed strict quality controls and safety standards to ensure a safe and pleasant user experience with our products."
Get well soon, Ariana, but parents, please, think about it: why do your very young children need a mobile phone? Aren't there enough dangers and distractions for them to deal with as it is?