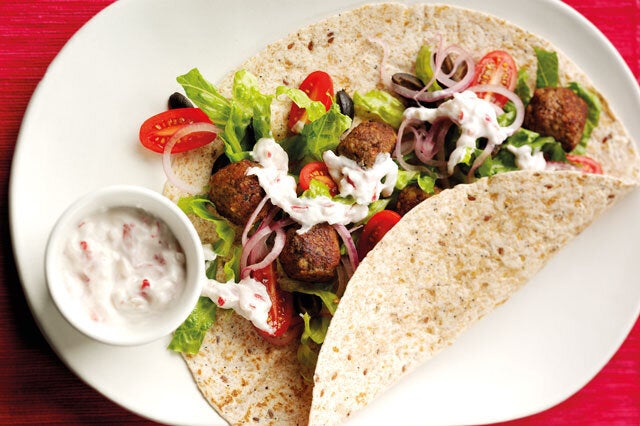 This easy meatball recipe is a great dinner idea that can be whipped up in less than 30 minutes. Leave out the chilli if your kids aren't fans of spicy food.
Ingredients:
170g TOTAL 0% Greek yoghurt
250g extra lean lamb mince
1 egg
50g fresh white breadcrumbs
2 tsp dried oregnao
1 red chilli, finely chopped
2 cloves garlic, crushed
Spray oil
1 large red onion, very thinly sliced egg
Juice of 1 lemon
1 tsp caster sugar
100g radishes, coarsely grated and squeezed to remove excess water
A pinch of sugar
4 large wholemeal wraps
Head Cos lettuce, sliced
200g baby plum tomatoes, sliced
100g pitted black olives, sliced
Instructions:
1. In a large bowl mix together the lamb, egg, breadcrumbs, oregano, chilli and 1 garlic clove. Shape into 20 small balls.
2. Heat a large frying pan and spray with oil, add the lamb balls and cook for 8-10 minutes, turning until deep golden and cooked through.
3. Meanwhile, mix together the onion, half the lemon juice and sugar in a bowl. Set aside for 10 minutes and drain off any liquid.
4. For the radish tzatziki: In a separate bowl mix together the remaining lemon juice, garlic, radishes and yoghurt. Season with a pinch of sugar, salt and pepper and set aside.
5. Warm the wraps, then top each with lettuce, tomatoes, olives, cooked meatballs, onions and radish tzatziki.
More on Parentdish
Jack Munroe's turkey meatballs recipe
Lamb and beetroot burger recipe