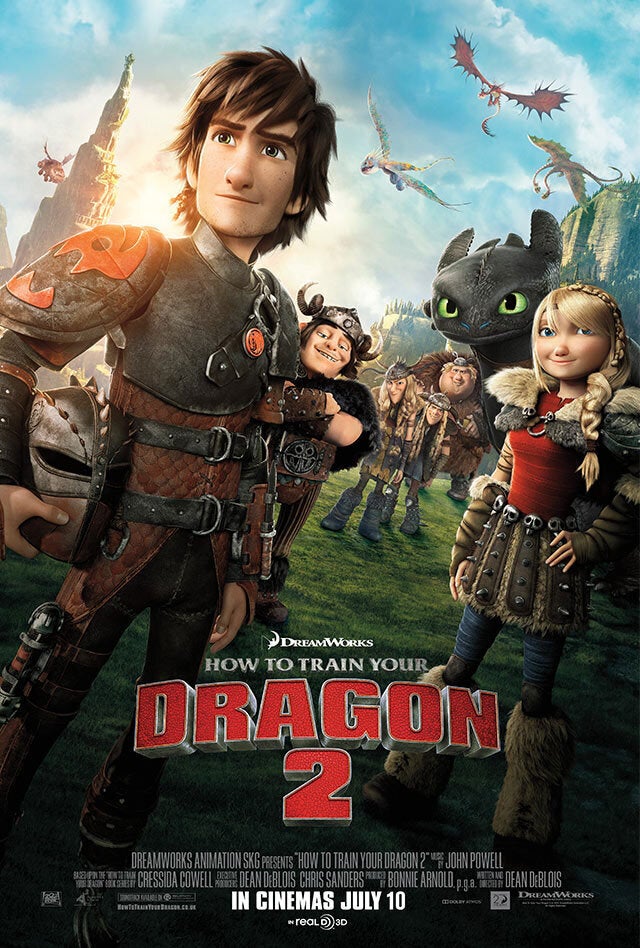 Looking to kick-start your July with some adventure, excitement and – best of all – dragons? Then you won't want to miss DreamWorks' How To Train Your Dragon 2.
The eagerly awaited second chapter in the How To Train Your Dragon trilogy takes us back to the fantastical island of Berk five years after the events of the first film.
And everyone's living happily ever after...
Vikings and dragons are peacefully coexisting, and our favourite Viking hero, Hiccup (voiced by Jay Baruchel) and his dragon Toothless are as inseparable as ever, soaring through the skies and exploring and discovering new worlds. Spunky Astrid (America Ferrara) and wise guy Snoutlout (Jonah Hill) and the other islanders have a new favourite sport: dragon racing - think Quidditch but cooler (and with sheep!).
It's Hiccup and Toothless' discovery of a secret ice cave, complete with thousands of wild dragons, that leads them to uncover power-thirsty villain Drago Bludvist's (voiced by Djimon Hounsou) plan to create a dragon army, disrupt the peace and destroy the future of men and dragons.
Drago's evil plotting is set against the backdrop of emotional family drama, as Hiccup's father Stoick the Vast (a wonderfully gruff-sounding Gerard Butler) urges his restless son to take up the leadership role he is destined for - something Hiccup isn't sure he's ready to do.
Hiccup also has a life-changing experience when he meets the enigmatic and isolated Valka (voiced by the inimitable Cate Blanchett).
The twist? Valka is Hiccup's mother. Long presumed dead, she's spent two decades rescuing dragons. Living among them, she has spent her time with them uncovering their secrets and has grown to love and respect them.
After meeting Valka, Hiccup starts to understand his deeper connection to dragons. Even Toothless learns a thing or two about himself after Valka helps him unlock some nifty back spikes he never knew he had.
The family - Hiccup, Stoick and their long-lost Valka - reunite and join forces against the common enemy, Drago, to save their friends in a story packed with adventure, visual delights and life lessons about relationships, friendships, family and love.
Written and directed by Dean DeBlois, How To Train Your Dragon 2 in 3D Lands in UK cinemas nationwide on July 10, 2014.
Check out the latest trailer for a peek at all of the action and adventure coming your way...
Courtesy of: TM & © 2014 FOX. ©2014 DWA LLC