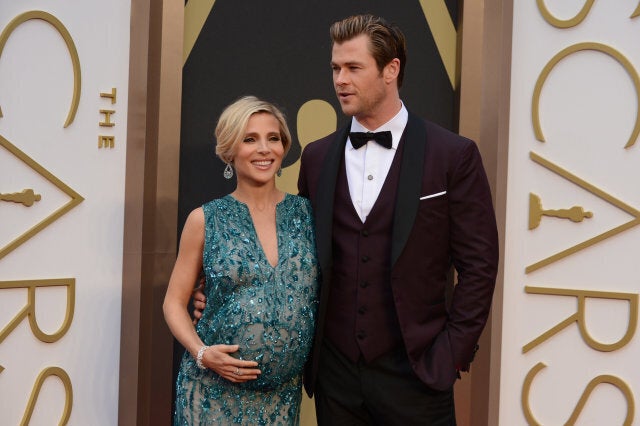 The world of fashion is notoriously bitchy, but saying a heavily-pregnant woman expecting twins looks like she has a beer belly? That's way below the bump!
That's what happened to Thor actor Chris Hemsworth's wife Elsa Pataky after she turned up to the Oscars in a (rather fetching, in my view!) beaded aqua-green floor-length gown that clung to her big baby bump.
Critics on E!'s Fashion Police didn't care that the Spanish-born actress had precious cargo on board – as far she they were concerned, she was a target for mockery.
Joan Rivers kicked off the criticism when she teased the 37-year-old over her prominent pregnant belly, saying: "I know why she's huge. I saw her sonogram."
The co-host George Kotsiopoulos chipped in: "The last thing I wanna do is rip on a pregnant woman...but it's a horrible dress on her. It doesn't look like a baby bump, it looks like a beer belly."
Kelly Osbourne then chimed: "It's just not the appropriate dress to wear if you are pregnant, you have to go with an empire style."
Even Giuliana Rancic, who called herself a 'friend' to Elsa, added: "I have to say pregnant or not I just don't like this dress."
Commenters quickly came to Elsa's defence when the clip appeared on YouTube.
One user wrote: "Fashion Police, you're just so rude - she's very pregnant and beautiful in this dress." Another said: "She's pregnant, she can wear whatever she wants, she's gorgeous."
Australian Chris married Elsa in 2010 and the couple already have an almost two-year-old daughter, India Rose.