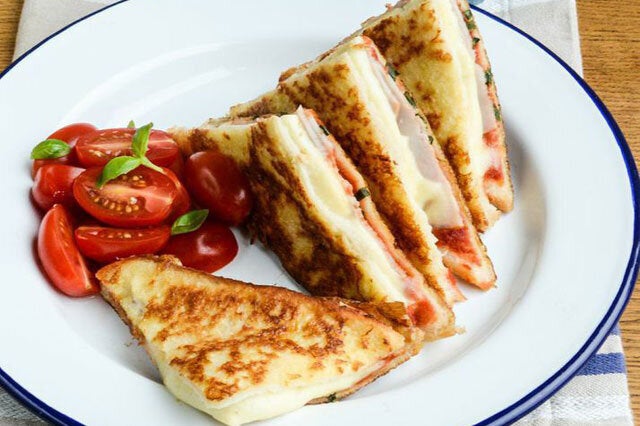 By
Nick Coffer, My Daddy Cooks
This Italianesque sandwich is really halfway between a croque monsieur and eggy bread. Most importantly, this is a filling and frankly delicious after-school snack. If you are not serving it immediately, wrap it in some aluminium foil and it will keep while you take it on the school run.
Prep time:10 minutes
Cook time:10 minutes
Makes:
2 sandwiches
1 tablespoon tomato puree
A small handful of fresh - basil, chopped
1 small garlic clove, crushed
1 ball of mozzarella sliced
Salt and freshly ground black pepper
1. Mix together the puree with basil and garlic. Spread it over two of the slices of bread.
2. Layer over the mozzarella and the ham, leaving a border of around 2cm (to prevent the cheese dripping out when frying). Season with salt and pepper.
3. Top each sandwich with another slice of bread and squash together firmly.
4. Mix the eggs and milk in a shallow bowl, dip the sandwiches into the mixture and coat well.
5. Heat a dash of olive oil and a large knob of butter in a wide frying pan on a medium heat. Fry the sandwiches on each side until golden brown.
6. Serve immediately or wrap in foil for later.
The After School Cookbook by Nick Coffer: 120 quick, easy and affordable recipes for your hungry kids (Hodder & Stoughton) is out now, paperback and eBook, £16.99.
Nick Coffer is a brilliant home cook and dad of three who develops simple and healthy family recipes. His video blog MyDaddyCooks.com attracted a worldwide following after its launch in 2009. Now Nick has a
new book out - The After School Cookbook – in which shares his favourite family recipes.
With a six-year-old son at school, a three-year-old growing up too quickly – and a brand new baby - Nick understands the need for after-school food that's quick and easy to make, and affordable. Nick said:"Schoolchildren of any age need nutritious and tasty food, fast. They need energy food. They need food to keep them going before they go to football or Brownies or music practice.
"They need lunch boxes with fun things in them to make a change from jam sandwiches. They need parents who can cope with a group of school friends coming home for unplanned and chaotic play dates.
"And as for us parents, we need time. But we don't have any of that. So we need food that will save us time. Food that is hassle-free. Food that fits into an ever-tighter family budget.
"Food our children will actually eat and which we can just as happily enjoy ourselves, either with our children or later in the evening when they are in bed asleep. "And all that is why I have written this book."