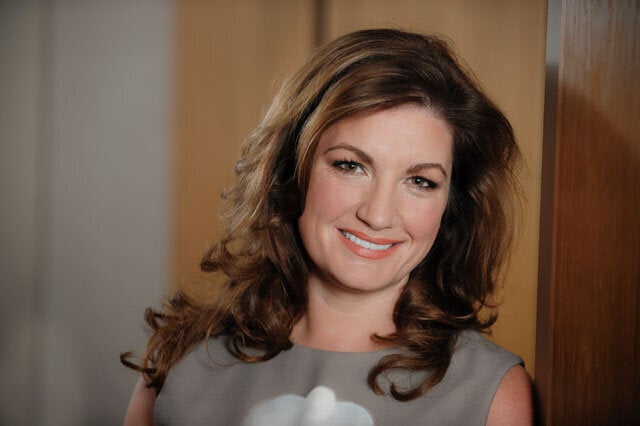 Karren Brady told Parentdish: "Like every parent, I want to support my children and give them the best possible chance of achieving their dreams. But, how much do the careers of family members really affect young people's own career decisions?
"According to new research from LifeSkills, created with Barclays, three quarters of 14- to 25-year-olds are inspired by their families about work and four in 10 look to their parents first and foremost for career advice.
So how can you prepare your children for the world of work ?
Schools out! And it's the perfect opportunity to get to work
I truly believe that one of the best things a young person can do is to gain first-hand experience in a workplace.
This will help them learn and gain invaluable skills such as time keeping, reporting to a manager and multi-tasking.
It's also brilliant for that all important CV. In fact, the LifeSkills Youth Barometer found that three quarters of small and medium businesses believe that young people with work experience are a great option when recruiting for their entry level positions.
Start by looking for placements with friends and family. But, if that isn't possible the local high street can work just as well. Encouraging your children to enquire directly about work experience can also be a great practice for when they need to start looking for full time work. Teachers should also be able to help with any questions you may have around placements.
Over the summer holidays encourage your children to create a CV. Help them by using resources online that give advice on format and layout, plus what should and shouldn't be included. Tips and guidance can be found on the LifeSkills website.
You should also help them think about the skills they've gained through extra curriculum activities - such as organising the school disco or captaining the football team - and how these translate into skills employers want.
Make first impressions count
Interviews can be the most daunting aspect of job hunting, especially for those who haven't had much practise.
You can help by running through interview techniques with your children to boost their confidence. Sitting with them and asking them basic questions they are likely to be asked can go a long way. There are plenty of likely interview questions available on the internet. Planning out some basic answers with them can really help when they are later put on the spot.
i
First impressions are as important as having the right experience or qualifications. I learnt this after my very first experience of looking for work.
i
I went to my local Waitrose in Enfield to ask for a job. Not knowing any different, I wore a typical 16 year old's outfit, including a pair of high heeled white cowboy boots. The manager took one look at me and declared me 'too glamorous' for the position. I was outraged, but I quickly learned about dressing appropriately for the job. This might not necessarily mean a full suit, but smart shoes are a very good start!
There's a big world out there
When I first started my career, the job market was still quite simple. Programmes such as apprenticeships were mostly centred on specific careers like construction or engineering. That's no longer the case with industries as diverse as catering and banking offering vocational routes into them.
Traineeships, a new scheme launched by the Government, also offer structured practical experience with tailored training. These are ideal for young people who don't want to go to university or struggle academically.
Spend time with your child discussing the options out there, as well as further education to see what suits them and their dreams best.
When I give my children advice about the workplace I always think about what I look for in a candidate.
i
I look for motivation, enthusiasm and ambition first and foremost. Having the best grades or a university degree doesn't always mean you'll be right for the job. I believe it's about having the skills and the right mind set to be successful.
i
I didn't go to university; I left school at 18 and decided I wanted to go straight to work and start making my money and earn my independence.
A large part of being successful in job applications is showing you're the sort of person the employer wants to work with.
Families are an important and obvious first port of call for young people when it comes to important decisions. But, try as we might, we can't have all the answers all the time.
Luckily for us, there are lots of online resources for young people to explore. LifeSkills, for example, offers free, interactive resources which can help them do everything from build their CV to develop their communication skills.
Our children are capable of great things, we just need to support them and give them the confidence and skills to help them achieve their dreams.