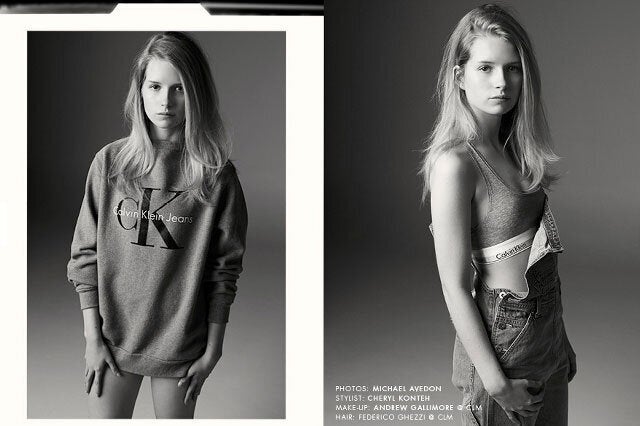 Kate Moss's little sister Lottie is following in the footsteps of her older sibling by recreating one of Kate's most memorable campaigns for Calvin Klein.
With her high cheekbones, cute nose and long blonde hair, Lottie, who's just 16, looked a chip off the old block as she modelled jeans for designer Calvin Klein's Re-Issue Project.
Photographer Michael Avedon said: "Lottie truly represents the essence of the Calvin Klein girl.
"Intriguing innocence with utter beauty - it was wonderful to photograph this beautiful young lady."
Kate's career soared after the original campaign, shot by Herb Ritts, which saw her modelling CK 'boyfriend jeans' beside model-turned-actor Mark Wahlberg.
And the fledgling model will be hoping the new ads will launch her in a similar way.
Lottie – daughter of Kate's dad Peter and his second wife Inger – is 24 years younger than her famous half-sister.
She was spotted by scouts when she was a bridesmaid at the star's wedding to Jamie Hince in 2011, but her parents decided to put her modelling career on hold until she was 16, when she signed with Storm.
Her proud dad, Peter, said at the time: "It's early days, really. Storm, Kate's agent, felt that it was worth giving Lottie a test shoot and seeing how she turned out. She had a lovely time and she seemed to come out quite well, so everybody's happy so far.
"If things work out for Lottie and she eventually gets some work, it could help her in the future.
"It's getting harder and harder to get jobs, university and things like that – so if she can get a couple of jobs early on and get something behind her, maybe it makes life easier."
It looks like the future is very bright indeed.