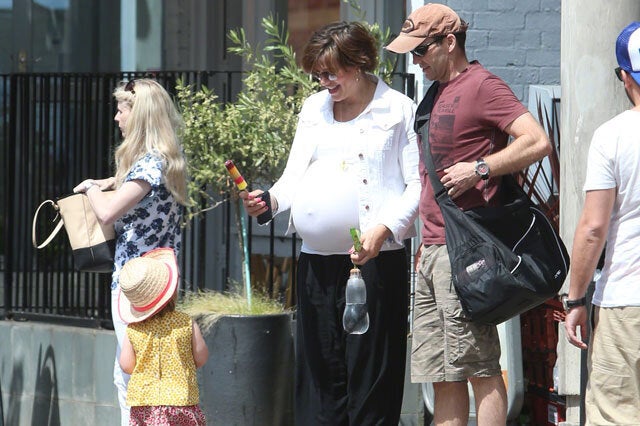 Pregnant Kate Silverton looked ready to pop as she stepped out with her family in south-west London at the weekend.
The 43-year-old BBC newsreader, who is around eight months pregnant, looked lovely in a white T-shirt which showed off the her growing baby bump.
Kate was out and about with her husband Mike Heron, and their two-year-old daughter, Clemency, who wore a floral summer outfit and a straw hat.
The journalist has spoken of her struggle to conceive a second child with IVF, but recently admitted to Lorraine Kelly that she fell pregnant naturally after 'moving on' from accepting that she might not have another baby.
She appeared on ITV with husband Mike Heron and said: "After Clemency, I said to Mike, 'I'd love to go through that experience again'. I did become pregnant, but sadly miscarried at six weeks. Then a few months later I fell pregnant again."
When Clemency was born in November 2011, Kate - who lost an ovary during an operation to remove a cyst when she was 29 - had already been through four rounds of IVF treatment and had resigned herself to the fact she was unlikely to become a mother.
But within months of stopping the treatment she conceived naturally and later described the pregnancy as a 'miracle'.