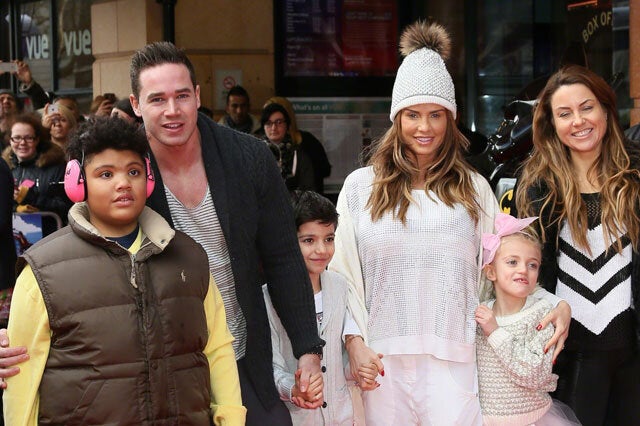 Pregnant Katie Price's former best friend Jane Pountney is heading for a divorce, according to The Sun newspaper. Wronged husband Derrick Pountney is set to file for divorce from his wife following her seven month affair with Kieran Hayler, Katie Price's husband.
Immediately after reality TV star Katie's discovery of the affair - and furious tweets - it seemed Derrick, 51, was sticking by his wife. He played down news of an affair, calling Katie's revelation 'a storm in a teacup'.
But now, the newspaper claims, he wants to end his marriage after a full and frank talk with Kieran, 27, a plasterer and part-time stripper, revealed the extent of his wife's deception. Derrick is said to be 'shocked' his wife would hurt so many people close to her.
Initially, Derrick, who owns a tyre business, had thought his wife was guilty of nothing more than 'a drunken kiss'.
Jane, 49, and Derrick have been married for 11 years and have two children. Jane and Katie have been friends since Katie, 36, was a teenager.
Just three days after discovering she was already six months pregnant with her fifth child - her second with Kieran, Katie erupted on to Twitter telling her fans that she caught Kieran cheating on her with her married friend.
She wrote: "Sorry to say me and kieran are divorcing him and my best friend jane pountney been having a full blown sexual affair for 7 months."
Katie took to Twitter again less than an hour after her initial post to vent her feelings about builder Kieran, describing him as a 'disgusting human being', before heading round to Jane's house near Horsham, Sussex, for a show-down with her friend and their husbands.
Jane publicly admitted to the affair in a joint statement with her husband two days after the news broke. It said: "It is true that Jane and Kieran Hayler had an affair. This is something that Jane deeply regrets and we will not provide any more details about it."
A source told The Sun that Katie 'feels terrible for Derrick but wants Jane to suffer some of the emotional pain that she has gone through.'
Shortly after her devastating discovery, Katie released a statement on her website:
"I appreciate most people will have seen my tweets on the subject of my marriage to Kieran.
"I make no apologies for them though it will be appreciated that, sending them immediately after Kieran confirmed to me what he had been doing for the last 7 months, those tweets were a sign of my heart breaking. That he was doing it with a close friend of nearly 20 years is hard to understand.
"This statement however is from my head, not my heart. I am appalled that someone I loved, trusted and believed in has behaved in this way. If he had so little respect for our relationship I would have hoped he would have thought about our child or the one that we have on the way. That he did not means he will no longer be part of my life. I will do all I can to ensure he maintains a relationship with his children should he want that.
"I am so grateful for the love of my children and family at this time."
Last week Katie discovered she was expecting a girl - but it seems she will be facing motherhood alone. She is also mum to Harvey, 12, from her relationship with footballer Dwight Yorke, children Junior, nine, and Princess, seven from her marriage to Peter Andre and Jett Riviera, her baby with Kieran Hayler.
Katie and Kieran - her third husband after marriages to Peter Andre and Alex Reid - wed in January 2013.