The mum-of-five usually treats us to bikini selfies or duck pouts in her photos, but yesterday (Weds) she posted a pic onto YouGossip of her tattooed foot, complete with pink nail varnish, and the message: "Soo swollen."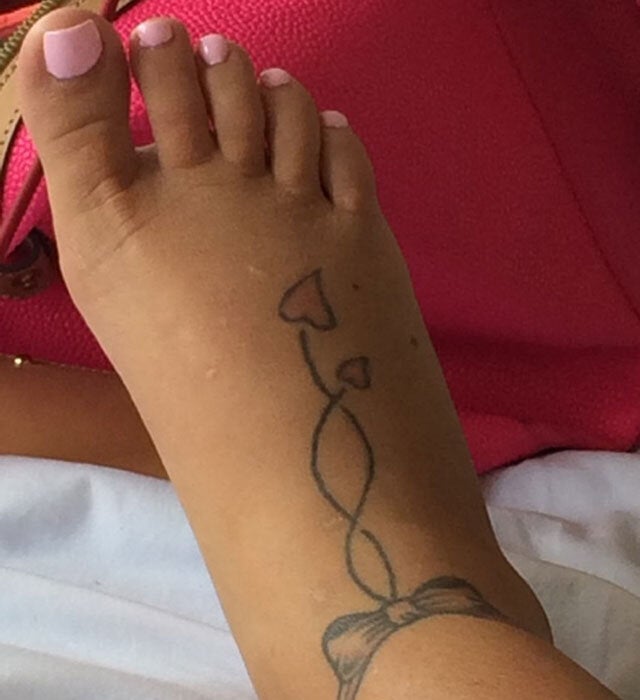 She later added another snap of her new daughter's car seat with the message: "Woooo hooooo here we go loving her new car seat" – an indication that Katie and her as yet unnamed baby will soon be leaving hospital.
The 36-year-old had her baby girl on Monday and the next day posted a photo of her husband Kieran Hayler and their baby.
The touching black and white picture shows her newborn's hand tenderly cradling one of Kieran's fingers. "Daddy's little girl :)," she wrote next to the picture that was shared with her 1.9million followers.
Katie was due to have an elective Caesarean section on August 15 - but was taken to hospital on Monday and gave birth 11 days early.
Cheating husband Kieran – who is the father of Katie's fourth child, Jett Riviera - was by her side during the birth.
Sources said he burst into tears when his daughter arrived.
Before she went into labour, Katie told OK! magazine: "Even if my waters break early then he will be there."
She also said they were working on their marriage following the shock revelations of her affair with her best friend Jane Pountney.
She said: "We're working on our relationship and taking it day by day. I wanted to focus on having a healthy baby rather than ending another marriage, so I decided that I would have our child and help Kieran through his therapy."