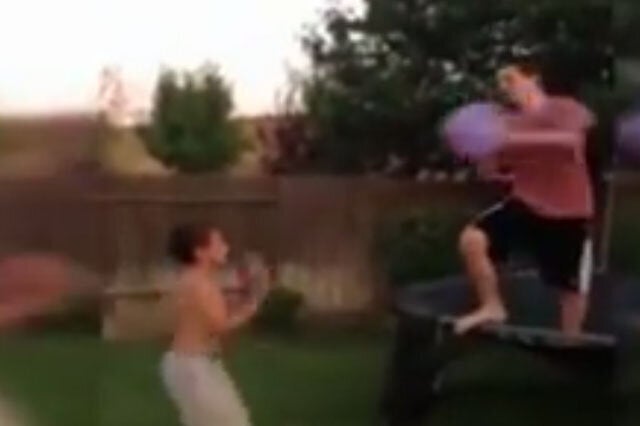 A laughing dad filmed his son unconscious on the ground after he was knocked out cold by a giant water balloon.
Oh, and he then posted the footage online for good measure.
In the video, a teenage boy is seen larking around in the garden with his dad on a hot day. All innocent fun. So far.
The boy can then be heard talking to his father, before his dad can be heard saying: "Let's do it."
Story continues after the video
The camera then pans around to show an older teenager standing on top of a trampoline with a huge water balloon.
The unsuspecting victim can be then heard shouting before the older boy prepares to launch the balloon out of his hands.
He then throws it hitting the younger boy clean in the face with the balloon bursting leaving him covered on water.
The boy then stumbles backwards before hitting the ground with a thud. He lands awkwardly as his father can be heard laughing in the background.
He then continues to laugh, even though the young boy doesn't appear to be moving and then the clip – believed to be filmed in the U.S. - abruptly ends.
Let's just hope the boy is OK and that the callous father has learned to treat him with a bit more paternal protectiveness.