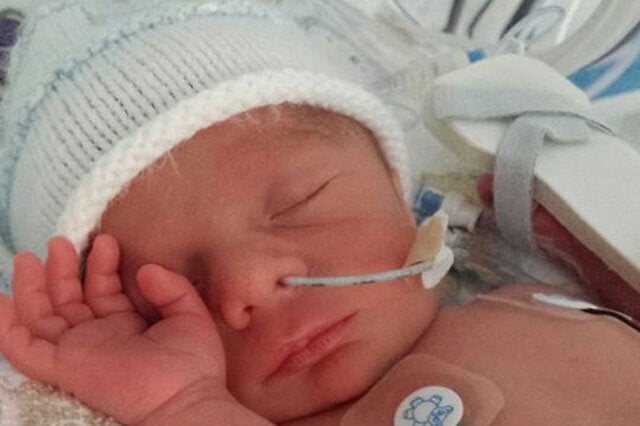 Sara James, 25, gave birth to a boy - named after her brother - after she was rushed to hospital following the anniversary of Lee's horrific death.
Bobby Ian-Lee James weighed just 3lb 14oz when he was born and is now in an incubator.
His mum said: "He has been really strong just like his Uncle Lee. He has battled hard to survive.
"I am so proud of him already just as I was so proud of my brother."
Sara's partner Rob Sarjeant - serving in Cyprus with the same fusiliers regiment Lee was in - made an emergency dash to be at her side in North Manchester General Hospital.
Barely 48 hours earlier Sara had joined her family at a private memorial service to mark a year since Lee, 25, was killed outside his South London barracks.
Sara said: "I like to think Lee will live on through Bobby."
Lee's mum Lyn, 47, said: "The baby has brought us some much needed happiness. This is the first time I have really smiled since Lee's murder."
She is campaigning for a plaque to pay tribute to her son at the Woolwich murder scene.