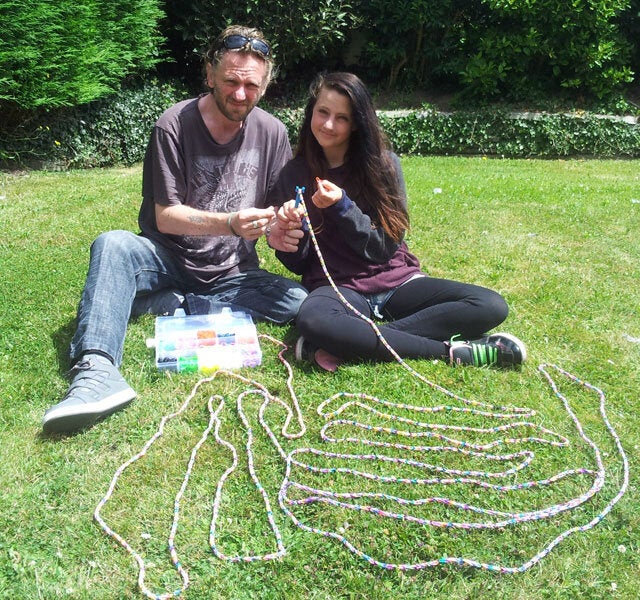 A dad whose teenage daughter introduced him to loom bands is now trying to set a world record with the rainbow rubber playthings.
Lister Paige, 48, told the Cornish Guardian that 14-year-old Bethan piqued his interest when she showed him the bracelet she had made by twisting the colourful bands together.
"My daughter had made a loom bracelet in 10 minutes and I said, 'How do you make them?' She showed me and I thought, 'that's brilliant'."
Dad-of-five Lister, from Mevagissey, Cornwall, decided to have a go himself, with the idea of making a simple necklace. By the end of the day, however, he had already woven together a metre-long chain of loom bands.
So he decided to keep going and, within a few days, had reached nearly six metres.
Lister then realised that if he continued at the rate of one metre a day, by the end of a year his pet project would be long enough to span Mevagissey harbour.
At 360 metres long, the loom band chain would set a world record.
He now spends his spare time working on what he has dubbed the 'loom rope'. His aim is to finish in time for Mevagissey's annual Feast Week.
The idea seems to have caught the imagination of Mevagissey residents. Several local businesses have now offered Lister sponsorship for every metre he completes, and wellwishers have even begun dropping off donations of loom bands to help Lister reach his target.
All the sponsorship money will go towards funding next year's Feast Week and, when he finally completes his project, he says, the rope will be auctioned off for charity.
Lister is in good company when it comes to admiring the clever, crafty bands.