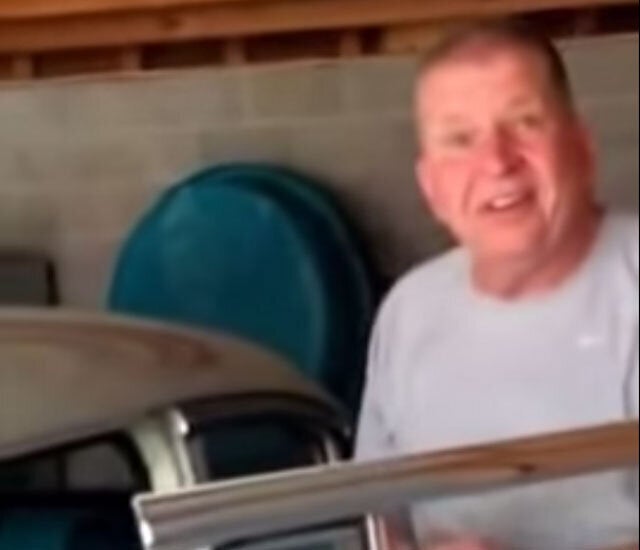 As a boy, Mike King dreamed of giving his dad the classic car he had always wanted - a 1957 Chevrolet Bel-Air.
This year, he was finally able to present Roger, now 57 himself, with the car. His sister captured their dad's reaction as they unveiled the gift. Be warned, you might need a tissue...
In a post on Reddit, Mike explained how the idea of showing his gratitude to his dad first occurred to him as a child. "Growing up my dad always dreamed of owning a 57 Chevy Bel-Air... He never thought he would be able to own his dream vehicle but would talk about it all the time.
"When I was 8 years old I promised him that on his 57th birthday I would buy him a 57 Bel-Air. I never forgot and was able to fulfil my promise."
Factory worker Mike worked 60-hour weeks, six days a week, in order to save the money needed to make his dad's dream come true. He was able to purchase the Chevy two years ago, but saved it for his dad's 57th birthday, just as he had promised.
In the video, while the family keeps Roger distracted on the driveway of their home in Louisville, Kentucky, Mike lifts the garage door to reveal the vintage blue Chevy within.
Mike's sister then asks their dad to get a tool from inside the garage - causing him to look around and see his dream car waiting for him.
His reaction is priceless as, overcome with emotion, he can only hold onto Mike and sob. "This is real!" he finally says as he gets up close to the classic car.
What makes the story even more touching is that Roger is Mike's stepdad, who raised him after his biological father abandoned the family when Roger was a young child.
"He is the best thing that ever happened to me and my mom and I hope I can be a fraction of the man that he is," Mike said.