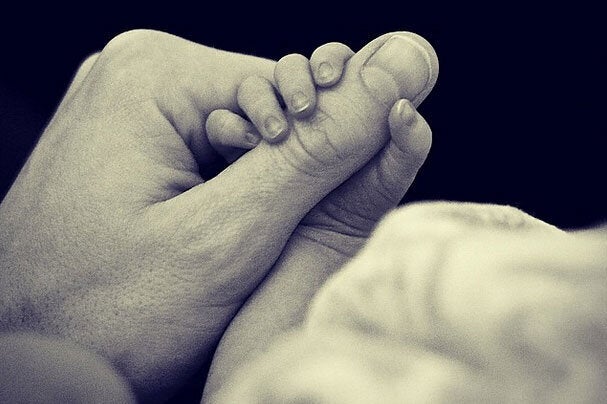 The black and white photo was then retweeted by new mum Giovanna with the caption: "The men in my life..."
Tom then told his 1.27 million followers: "I've been having a cuddle with Buzz for about an hour. Best cuddle of my life. Ever!" The All About You singer, has been embracing the challenges of becoming a dad since Buzz's arrival last Thursday, writing on Saturday: "Oh so this is what 'tired' really feels like...blimey!"
The hands-on dad wrote: "Just got peed on," followed by, "Anyone else been pooped on already today? No? Just me then."
Then he gushed: "I'm so so so so completely in love with my son."
Welcome to the club, Tom!
Italian Giovanna, sister of TOWIE star Mario Falcone, announced the couple's happy news on Twitter, writing: "THRILLED to announce the safe arrival of our little BOY! Born last night at 7pm. I can't stop staring at and kissing him! I'm in love! Xxx."
In her last blog post before she gave birth, Giovanna shared just how excited she was to meet her new baby, who the couple had nicknamed 'Crumb" and how she hadn't known his or her sex. She posted:
"And now we've arrived at 37 weeks. From this point on Crumb can arrive whenever he/she chooses. It's mindboggling to think that the little human I've been growing for the last eight and a half months is about to come out and meet us. I can't wait."