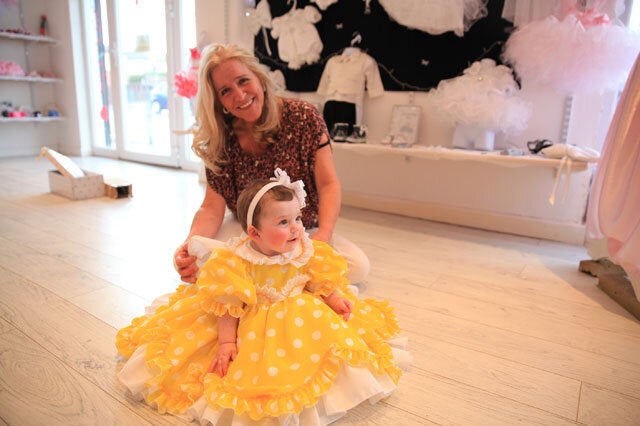 Personally, the slow slide into what I like to call 'Baby Buying Syndrome' happened before my daughter was even born. Hell, it started even before I knew which 'type' – pink or blue in shopping option terms, you understand – we were about to welcome into the world.
Of course after she arrived my 'BBS' just got progressively worse. I'd covet clothes and toys my friends had bought for their offspring and feel like I was a bad mum if I didn't purchase the same immediately for Immy.
A few years down the track and now with two kids to kit out, while I'm constantly shocked at just how much children cost, I still enjoy shelling out for pretty outfits for my little tomboy who would far rather play football or sit in a big pile of wet sand than worry about what she's wearing.
One-off documentary 'Blinging Up Baby', due to air on Channel 5 on Monday evening (July 28) makes for equally shocking and hilarious viewing. And the real stars of the show? Not the ridiculously decked out kids but their consumer-mad and hence cash-strapped mothers.
Sophie May Dixon, 22, from Canvey Island, Essex, might be an unemployed single mum, but behind the doors of the 'Princess Palace' where she lives with four-year-old Princess Bliss Tiana May and Precious Bell Ruby Rosina, one, you'll find gold jewellery, crystal encrusted shoes and accessories and fake hair pieces galore.
This is because, as she frankly admits, 'I'd walk around in a black bin bag if I had to' rather than see her children go without.
Although Sophie's definition of 'going without' means pint-sized 'Prin' having to forego her collection of blinged-up Converse shoes in every colour, having her eyebrows drawn on daily and getting to be the same shade of brown as mummy.
Sophie is proud that she and her pampered mini-mes go out sporting matching Juicy Couture tracksuits, Uggs and Ralph Lauren separates, and trusses Princess up in a huge pink tutu and co-ordinating hairpiece combo to go to a friend's party.
i
"Princess you look like Miley Cyrus on the wrecking ball!" she tells her daughter proudly, while watching her try to negotiate soft play in a skirt she can't turn sideways in.
i
According to the programme, parental celebrity obsession is one of the main reasons why the ever-expanding childrenswear market is now worth a whopping £5 billion a year, with Beyoncé and the Kardashians at the top of the copy list.
"Princess is a baby celebrity," Sophie gushes on camera, having captured her daughter doing model poses almost before she could walk.
"She's my little Essex Barbie baby. If Barbie had children, my girls are what they would look like."
Beautician Sammy Bushell, 26, from Doncaster, readily admits to thinking of her one-year-old daughter HallieMai as a 'doll', and her favourite hobby is dressing her up.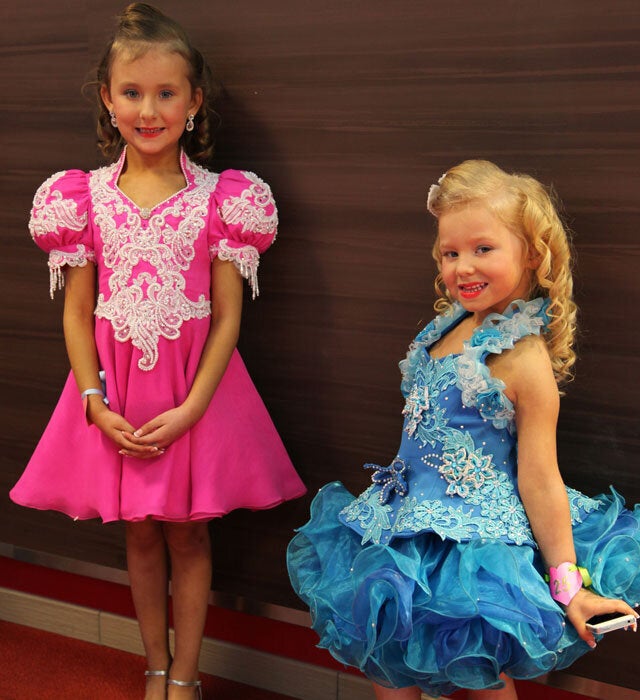 Sammy's on-line obsession with specialist children's boutiques is a 'continuous expense', and she updates HallieMai's handmade wardrobe months in advance, with many of the tiny girl's outfits coming with matching accessories ranging from frilly socks to Victorian-style bonnets.
Sammy's motto is: 'The bigger the dress the better.'
Leigh-Ann Dix, 33, from Portsmouth, has her own mummy mantra: "We do our best and look our best in everything we do."
Doesn't sound that bad on the face of it - until you learn that this extends to designing a barely there 'Hooters' style outfit of hot pants and diamante leotard for her four-year-old daughter Scarlett to parade around in at beauty pageants in the hope that she'll bag the grand supreme crown.
"Some people may say it's controversial but little girls wear swimming costumes all summer," she reasons.
Leigh-Ann, who frequently dresses up Scarlett and six-year-old sister Bessie-Sue for self-styled photo shoots, calls her youngest 'sexy girl' while encouraging her to pose for pictures and tells her daughters: "If you come second you're the best loser."
But it seems even these fashion-obsessed mums sometimes experience the negative side of BBS.
Sophie for example has had her house egged and her own hair extensions pulled out, while someone else even told her they wanted to 'put Princess in a blender.'
"It's just hard when it's about your children," she sobs, breaking down in front of friends – and the show's producers.
Just think about how many tears little 'Prin' may shed when she catches a glimpse of herself in later years with half a ton of gold hanging from her earlobes and her limbs stained darker brown than a strong cup of tea.
Perhaps, on reflection, my own pint-sized shopping habits aren't that bad after all...
Blinging Up Baby airs on Monday July 28 at 9pm on Channel 5