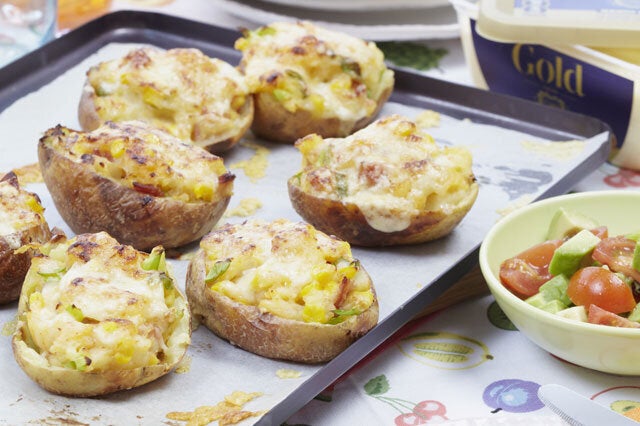 Mexican pinata baked potatoes, by Jo Pratt
"Add some Latin flavour to your family mealtimes with these Mexican baked potatoes," says Madhouse Cookbook author and mum-of-two Jo Pratt.
Top tip: if you want to save on a little time, serve with some shop-bought guacamole and some fresh tomato salsa. For the grown ups with a mature palette, you can try scattering over some sliced green jalapeno chillies from a jar.
Prep Time: 15 minutes
Cook Time: 50 minutes - 1 hour 5 minutes
Serves: 4
Cost:
£4.25
Ingredients:
4 baking potatoes
4 rashers smoked back bacon
25g Gold from Flora
100g mature cheddar cheese, grated
100g cooked sweetcorn
1/2 - 1 tsp mild chilli powder or paprika
Serving suggestion
1/2tsp ground cinnamon
Guacamole
1 sliced green jalapeno pepper
Salsa
2 ripe avocados peeled and cut into 1 cm cubes
100g cherry tomatoes, quartered
4 spring onions, chopped
Juice of 1/2 a lime
1 tbsp oilve oil
Instructions:
1. Preheat the oven to 220C/200°C fan/gas mark 7. Prick the potatoes several times with a fork and place in the oven for 45-60 minutes they are cooked through and have crisp skins.
2. When the potatoes are near the end of cooking, put the bacon on a wire rack over a baking tray and put in the oven to cook for 10-12 minutes until golden. Remove and cut into small pieces.
3. When the potatoes are cooked, switch the oven to the grill and set at high.
4. Cut the potatoes in half and scoop out the potato flesh into a large bowl. Add the Gold from Flora and mash with a fork. Gently mix in the bacon pieces, half of the cheese, sweetcorn, spring onions, chilli powder and, for an interesting variation, cinnamon. Spoon back into the potato skins and scatter over the remaining cheese
5. Sit the filled potatoes on a baking sheet and put under the hot grill for about five minutes until the cheese has melted.
6. This dish is delicious if served with an avocado salsa. To make the salsa, simply mix everything together and season with a little salt and freshly ground black pepper.
Find more recipes hint and tips at www.goldfromflora.com.
More on Parentdish
New potato , spinach and gruyère bake recipe
Jo Pratt's sticky sausages with smoky mash
Jo Pratt on tasty, stress-free recipes and why her kitchen is always covered in glitter