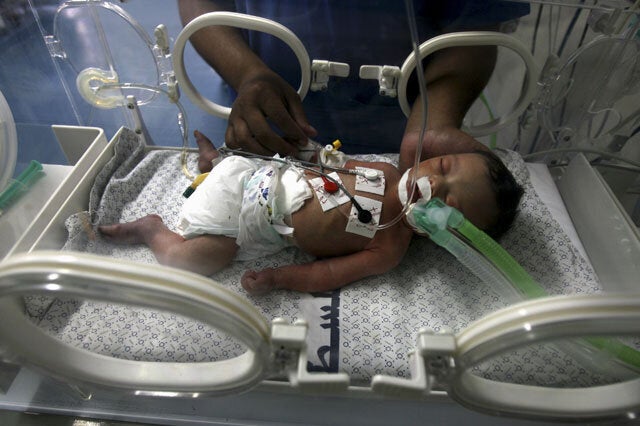 The 'miracle baby' was born in an emergency Caesarean section in the central Gaza strip town of Deir al-Balah on Sunday after an Israeli bomb killed her 23-year-old mother, who was eight months pregnant.
But tragically, the baby – who was named Shayma Shiekh al-Eid after her mother – lost her fight for life on Tuesday (July 29).
The story of the baby girl profoundly touched people worldwide.
Her mum was heavily pregnant when an Israeli tank shell hit her home, causing her critical injuries.
Before paramedics managed to dig her out, she had been stuck under the rubble of her home for an hour.
Dr Fadi al-Kharti, who was at Deir al-Balah hospital when she was rushed in, said: "Her body was brought in after an Israeli shelling at 3:00 am on Friday.
"We tried to revive her but she had died on the way to hospital."
Doctors realised the baby was still alive when 'we noticed movement in her stomach'.
The doctor said: "We estimated she was about 36 weeks pregnant."
Medics performed an emergency Caesarean section and saved the baby, but sadly she only lived for three days.
The latest figures show since the July 8 invasion, more than 1,300 Palestinians – a quarter of whom were children – and 53 Israeli soldiers have been killed in the conflict.