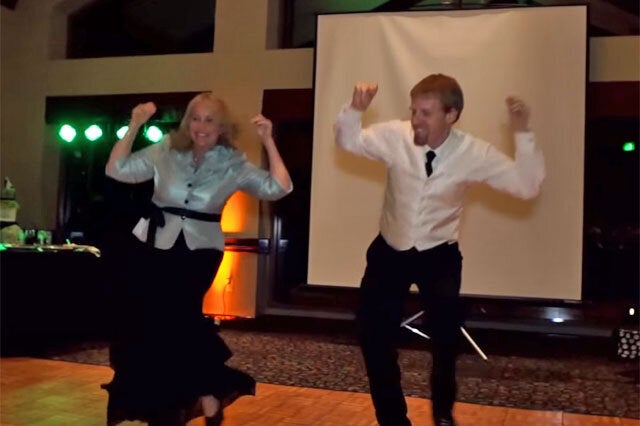 It's not unusual for a groom to take his mum for a twirl on his special day. But Blake Bunker took it a big step further when he and his mum wowed wedding guests with an impeccably choreographed routine to a mash-up of party anthems.
In the video, taken at Blake's wedding last year in Las Vegas, mum and son start off by waltzing gently to a typical wedding ballad in front of smiling guests.
But the smiles soon turn to open mouths as the music cuts off, the Jackson 5's 'I Want You Back' kicks in and mother and son start throwing some serious shapes.
The pair then treat - understandably stunned - onlookers to a mash-up of dance hits from across the decades, including MC Hammer's 'Can't Touch This', LMFAO's 'Party Rock Anthem' and N'Sync's 'Bye Bye Bye'.
Only Kathy, Blake and his fiancée Laurel were in on the secret. Remarkably, Kathy says that the bulk of the routine was planned over one Sunday afternoon.
"We decided to do this only a few weeks before the wedding," Kathy told Yahoo News. "We thought that we should do something besides the typical dance."
However, when it came to nailing their choreography, Blake and Kathy had a bit of an advantage - Kathy has run a dance studio in Las Vegas for 19 years, and her son was one of her early pupils.
The footage was originally posted last year, but was recently rediscovered by internet users who had to share the brilliant two-person flash mob. Since then, it has gone viral - garnering over three million views on Youtube.