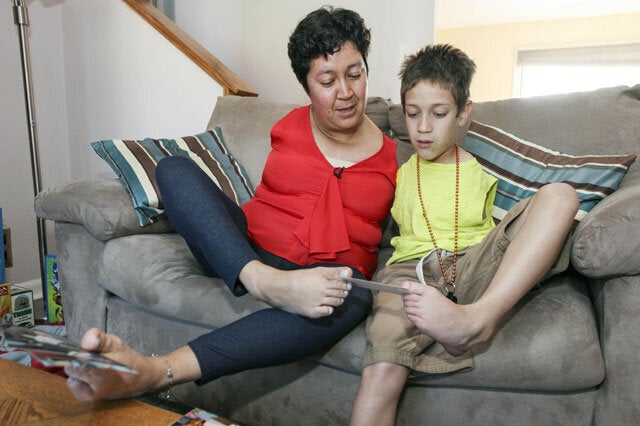 A woman who was born without arms has spoken about helping her son, who was also born with the condition, live his life to the full.
Linda Bannon, 35, was born with Holt-Oram syndrome - a rare hereditary condition that affects bone growth and can also cause heart problems. It meant she was born without any arms.
The mum-of-one has taught herself to eat using cutlery, put on make-up and even sew using just her feet.
And when her son Timmy was born with the same condition, she helped him cope too.
Now, nine-year-old Timmy can swim, do taekwondo and plays video games using his toes to grip the controller.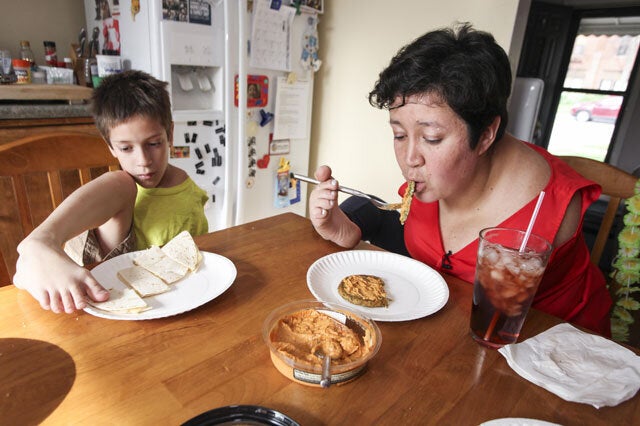 Speaking about her son, Linda told Barcroft Media: "Timmy is just like any other little boy. He does his homework, plays Lego and tidies his room all using his feet.
"He gets frustrated by things like fastening buttons, but he's very positive and I'm so proud of him. I knew from scans he was going to be born without arms.
i
We were understandably concerned, but I wasn't too daunted as I knew he'd be able to live a normal life like me.
i
Linda grew up in Chicago with her parents and four younger siblings. Her parents were unaware of her condition until she was born, but they took it in their stride and didn't ever treat her any differently.
"They helped me to walk and dress myself," said Linda. "I had prosthetic arms but they were uncomfortable. So by the age of 12 I was doing everything with my feet. I was teased at school but my friends supported me."
Story continues after the video
After leaving school, Linda became a primary school teacher. Then aged 24, she met Richard at the gym. "We hit it off straight away," explained Linda. "He wasn't fazed by my disability – he liked my independence."
The couple married in July 2004 and decided to try for a baby. Sadly, Timmy was born with holes in his heart and spent two months in hospital.
"After I fell pregnant we were told that there was a 50 per cent chance our baby could inherit my condition," said Linda. "I questioned whether we were doing the right thing, but we really wanted a family.
"He had surgery and thankfully made a full recovery. I threw myself into being a mum. I'd carry him in a blanket hooked round my neck."
As Timmy grew up, Linda taught him to do everything with his feet.
She added: "As a baby he'd scoot around on his bum, but he had learned to walk by the time he was two. I showed him how to grip a toothbrush and cutlery with his feet.
i
He swims on his back using his legs to propel himself. He gets down sometimes when he can't do things like ride a bike. But he never stays upset for long.
i
"However, I'm not having any more kids as I couldn't bear to see them go through the same heart problems Timmy had.
Linda now plans to become a motivational speaker:
"I want to raise awareness about my disability and show you can live a full life. There's no reason why Timmy can't have a wife and family. As long as he's happy that's all that matters."