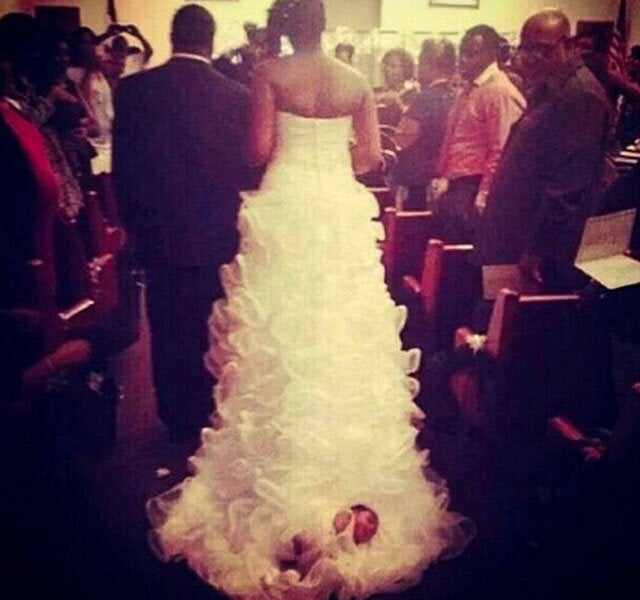 A bride has walked down the aisle with her newborn daughter strapped into the train of her wedding dress.
Unfortunately, bride Shona Carter-Brooks's bizarre wedding day celebration in Ripley, Tennessee, US has caused something of a furore, with critics attacking her for putting her one-month-old daughter Aubrey in danger and branding her 'dumb'.
Well, we're not entirely sure about that, but different, yes. Most definitely different.
Shona defended her decision, saying her baby was 'awake and well-secured' and that she was 'covered by Christ' as she married Johnathan Brooks last month.
LIKE PARENTDISH ON FACEBOOK FOR MORE
The dress - which to trained observers is believed to be a Vera Wang number, costing anywhere from around $400 to $1400 - appears to have been altered to allow Aubrey to be swept down the aisle.
But commenters who saw Shona's wedding video on Facebook were quick to pass judgment.
One said: "I am sorry but if I would have saw that I would have gotten out of my seat and taken that baby. That is truly dumb."
And others threatened to report the new mum to child welfare services.
But Shona defended her actions, writing on Facebook (and this is word for word!): "People questioning what we do, commenting all negative, and just doing the most.
"We good though we covered by the Blood which never loose its power.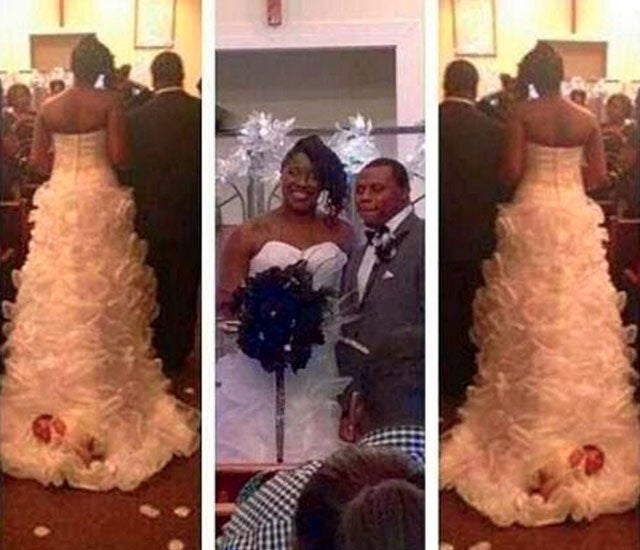 "The answer is we do what we want, when we want, as long as Jesus on our side everything worked out fine and gona continue to be fine."
The bride's second post maintained that her daughter was in no danger.
She wrote: "Our 1 month old was awake and well secured on my train. Most important while yall got ya feelings in us we had our hearts in Christ which covers all!!"
A friend who attended the wedding, Pamela Stone, came to Shona's defence, saying: "Shona and Johnathan Brooks your wedding was super perfect from the groom and his men and you and your diva's baby you rock the gown and the princess tagging behind you it brought tears to my eyes.
"Regardless of anybody else dream your's came true. I loved it and thank you for inviting me."