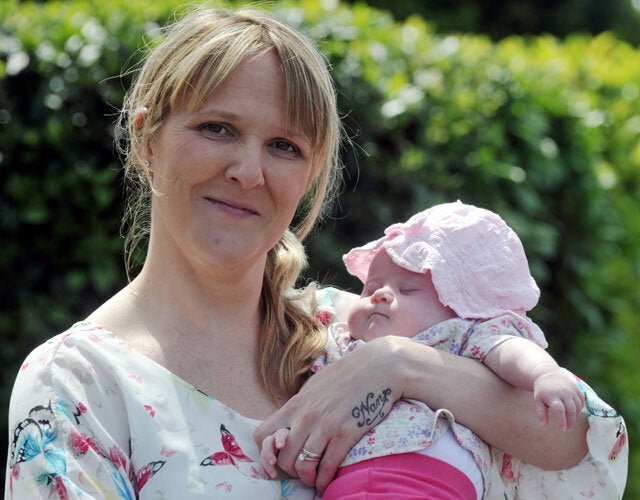 A mum has claimed that a bus pulled away before she could unload her pram so her daughter was 'dragged down the road' before the driver realised his mistake.
Karen Sharp, 34, was getting off the bus after having lunch with her baby daughter in their hometown of Barrow, Cumbria. when she says the bus moved off before she could get the pram fully unloaded.
"I had only got the front of the pram off the bus and I was still taking the back end off when the driver pulled away," she told the North West Evening Mail.
Luckily, the shouts of passengers within alerted the driver to the fact that the vehicle was dragging two-month-old Isabelle alongside it, and he ground to a halt before any injury could occur.
For Karen, the incident was particularly frightening because of her daughter's precarious health. Isabelle was diagnosed with Down's syndrome at birth, but has also been plagued by a variety of other medical problems in her short life.
However, Stagecoach, the operator of the bus on which the alleged incident is supposed to have occurred, disputes the mum's version of events.
"We have investigated this alleged incident, including viewing the on-board CCTV, which clearly shows that the driver did not pull off before the customer had alighted," a spokesperson told the press.
Acknowledging that there had been 'some slight forward movement of the vehicle', Stagecoach insisted that the disturbance had lasted 'a split second' and that the driver halted the bus 'immediately' when it occurred.
However, the company extended their apologies to Sharp for any distress she may have experienced. "We are sorry for any upset this may have caused and we have taken steps to address this with the driver involved."
Karen says she does not want to see the driver of the bus made a scapegoat over the incident. "I'm not looking for the driver to be sacked," she insisted. "I want him to realise that next time he could cause someone serious damage."