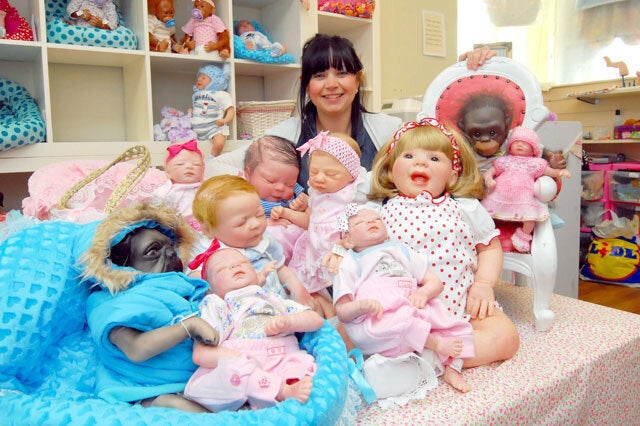 A creative mum has launched a business selling realistic baby dolls which come complete with hospital tags and even SMELL like newborns.
Tammy Pickford, of Stockton-on-Tees, got the idea of making the ultra-realistic models when she noticed that the standard of her daughter's toy baby dolls was often disappointing.
Although not a trained artist, she buys basic doll-making kits and then adds delicate touches such as veins, blemishes, birthmarks and wrinkles to transform them into life-like newborns.
And while your traditional 'bun in the oven' has to wait nine months, Tammy's dolls are baked for eight minutes in between coats of paint.
i
The dolls are then given the final touches - a hospital tag stating the 'baby's' weight and birth date, and a sweet-smelling sachet which replicates that much-loved 'new baby smell'.
i
Tammy, 31, initially began selling her models - which range from tiny newborns to toddlers - on internet trading sites, but has now opened up a retail premises in her hometown, allowing customers to see the dolls with their own eyes.
"When people come in for the first time they think they are real babies and are really shocked when I tell them they're not," she told the Northern Echo. "They hold them like they're real because they are weighted. You can't help but rock them or pat them."
Transforming a boxed doll kit into a realistic baby takes Tammy around four days of work, and specialised commissions can be done in two weeks. And she doesn't draw the line at human babies - she also creates dolls of baby animals, such as monkeys.
Tammy, who has two (real) children, is quick to put to rest any stereotypical or preconceived notions people might have about her clientèle.
"My customers are not people who can't have babies or have lost a child - not that I am aware of, anyway," she told the Echo. "A lot of people collect them and it can get addictive. I have regular customers from as far away as Essex, with ages ranging from young children to an 87-year-old."
She admits that not everyone understands the appeal of her ultra-realistic models, but she doesn't let it get her down.
Her next project? Baby vampires and werewolves. "To cater for the Gothic genre," she explains.