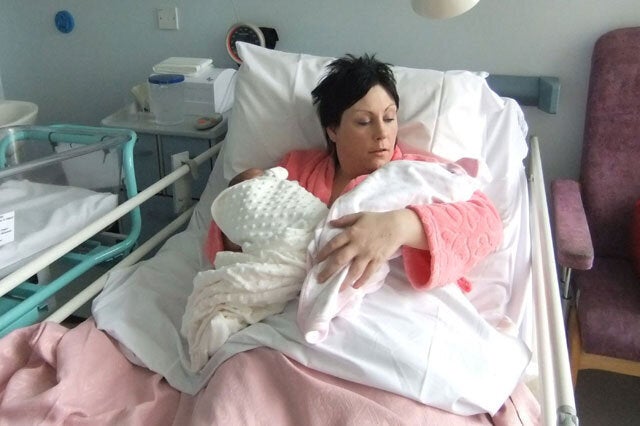 A mum was forced to make the agonising decision to refuse potentially life-saving treatment for one of her unborn twins so that she could save the other.
Dwynwen Davies, 30, was left devastated when a scan during the pregnancy showed that one of her daughters, Martha, had contracted slapped cheek syndrome.
The heartbroken mum was faced with the option of a blood transfusion in the womb which would save Martha, but could kill healthy twin Cadi.
Dwynwen decided against the treatment and was then left to hope that Martha would pull through unaided – but tragically she died 28 weeks into the pregnancy.
Cadi was born seven weeks later by Caesarean section.
Dwynwen said: "I couldn't risk losing both of my girls – I just had to hope that Martha would pull through without treatment. It was a terrible decision to make but with doctors advising against a transfusion, I knew I had made the right choice.
"Sadly, I was told Martha had no heartbeat at my 28 week scan. I then had to carry both babies for another seven weeks.
"The birth was bittersweet. I had two babies but only one was coming home with me. I had Cadi in one arm and Martha in another. It was heartbreaking to see such a perfect baby who would never have a future.
"I'm extremely lucky that I have Cadi but that doesn't stop the grieving or ease the pain of losing a child."
Dwynwen, from Lampeter, South Wales, caught slapped cheek syndrome from a child at the nursery she owns.
Children with the infection have a red rash and usually recover from the cold-like symptoms in a few days. But the Parvovirus B19 virus can cause severe anaemia in unborn babies.
Tests showed Dwynwen had no immunity to the virus and a scan 17 weeks into the pregnancy detected fluid in one of the twins.
The mum, who also has a six-year-old, Delun, said: "I was then given two scenarios: either my baby would fight the infection or it would continue to fill up with fluid until the heart stopped.
"To know there was a child drowning inside of me was horrible. I felt helpless in my own body as there was nothing I could do to save her, it was awful. I just hoped and prayed they would both make it."
The fluid dispersed three weeks later but by week 24 of the pregnancy Martha's condition was critical.
Dwynwen said: "I was offered a blood transfusion but because I was having twins it was too risky. I couldn't risk losing Cadi and doctors couldn't even guarantee that the transfusion would save Martha. I opted against it and trusted the doctors' advice."
Four weeks later doctors told Dwynwen that Martha had died.
Dwynwen said: "They couldn't rule out that the virus wouldn't attack Cadi too. I was a nervous wreck. I carried on with my pregnancy and just prayed that my second baby would survive.
"Knowing that one of my girls was healthy was a relief but it didn't stop the pain or grief I felt knowing I'd lost Martha.
"I wish I had known the dangers of slapped cheek syndrome while pregnant. I hope by sharing my story that other parents will read about the devastating consequences the virus can have."
Cadi is now six months old and Dwynwen has set up an appeal campaign in Martha's name to raise awareness of slapped cheek syndrome.
She said: "It's my aim to fund raise so that I'm able to help towards the costs of leaflets in doctors surgeries, schools, nurseries, as well to warn about the importance of having the blood test that detects immunity."